Spaceballs 25th Anniversary Blu-Ray Is Strong In The Schwartz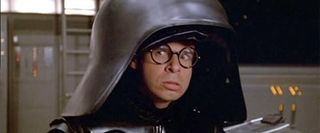 Believe it or not, it's been a full quarter century since Mel Brooks' Spaceballs hit theaters back in the summer of 1987. It was a simpler time, when Brooks had yet to conquer Broadway with The Producers and the parody genre had yet to descend into the purgatory of Scary/Epic/Disaster Movies. Now Brooks fans will be able to celebrate the good old days with a 25th anniversary Blu-ray release of Spaceballs set to arrive on August 7th.
This isn't Spaceballs' first foray onto the high-def format, but the new edition does include a new featurette. Only one, however, so this probably isn't worth the upgrade if you already own the previously released Spaceballs Blu-ray. Unless, of course, you're a die-hard Brooks fanboy or have some pressing urge to own multiple editions. Of course, if that's the case, you probably already own this.
Here's the full rundown of the Blu-ray's five hours of bonus features.
NEW!! "Farce Yourself! Spaceballs and the Skroobing of Sci-Fi" featurette
Commentary by Mel Brooks
Additional Commentary Tracks: Mawgese, Dinkese
"Spaceballs: The Documentary" featurette
"In Conversation: Mel Brooks & Thomas Meehan featurette"
"John Candy: Comic Spirit" featurette
"Watch the Movie in Ludicrous Speed" featurette
The Behind-the-Movie Photos
Spaceballs: The Costume Gallery
Spaceballs: The Art Gallery
Trailers: Exhibitor Trailer with Mel Brooks Introduction and Theatrical Trailer
Storyboards-to-Film Comparison
Film Flubs: Edge of the Mirror, Grabs Himself Early, The Magic Reappearing Ring, More Than His Head, No End in Sight, and Track Behind Dot
The existing Spaceballs Blu-ray was already pretty packed with goodies, but it still seems a shame that the set isn't getting more new material for this anniversary release. Sure, a new featurette is nice, but it hardly seems to be taking full advantage of the marketing potential that Skroob would prefer. If nothing else, how about a couple of isolated audio tracks where Brooks mocks the Star Wars prequels? Or maybe just a looping video of Skroob punching Jar-Jar Binks in the babymaker over and over? It's not like we're asking for a full Spaceballs sequel or anything…