Scary Movie And 13 Other Great Parody Movies Available To Stream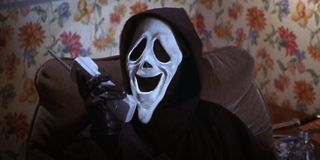 CinemaBlend participates in affiliate programs with various companies. We may earn a commission when you click on or make purchases via links.
Few things are as disappointing than when scary movie feels more like a cartoon than a genuinely frightening experience. That is, unless you are watching the Wayans Brothers' Scary Movie, one of the most acclaimed parodies in recent memory, which is available to stream on Netflix.
Parody movies are a lost, or at least rare, art these days, especially how after the success of Scary Movie inspired far too many sequels and spin-offs that began to completely lose the essence of what it means to effectively lampoon a piece of art. Of course, with a few winning exceptions, the best parodies are those that incorporate clever mockery of the cultural phenomena they reference into an "original" story of their own, whilst throwing in one ludicrous sight gag after another.
If you, like me, are someone who misses the days of ridiculous ridicule and cartoonish commentary on cliche, I bet you will be happy to learn that many of the greatest parodies ever made are available to stream. I usually have only 12 movies or so per list, but there was such an epic selection to classic spoofs to recommend that I could not help but narrow it down to 14. These should keep you laughing for a while.
Scary Movie (Netflix)
Ditzy teen Cindy Prescott (Anna Faris) and her buffoonish friends are stalked by a masked murderer in the crude, yet clever, Scary Movie. Coincidentally, the Wayans Brothers' 2000 blockbuster bears the original working title of Wes Craven's 1996 slasher genre revival (and deconstruction) Scream, on which most of its story and jokes were based, and to further the irony, the parody (which came out the same year as a horror spoof called Shriek If You Know What I Did Last Friday the Thirteenth) was almost given the title Scream If You Know What I Did Last Halloween.
Stream it on Netflix here (opens in new tab).
Airplane! (Tubi, IMDbTV)
However, the Wayans Brothers would have never had the success they did if not for the pure lunacy of 1980's Airplane!, which, like Scary Movie, is essentially a shot-for-shot recreation of a pre-existing film (in this case 1957's Zero Hour!), but instead involving a disgraced former pilot protagonist (Robert Hays) with a strange drinking problem, Jive-talking elderly women, and an inflatable automatic pilot with more personality than you would comfortably expect, all from the absurd minds of David Zucker, Jim Abrahams, and Jerry Zucker.
Stream it on Tubi here or on IMDbTV here.
Blazing Saddles (Hulu)
Of course, "ZAZ" possibly could have never had the same career if not for the influence of Mel Brooks, whose best work, arguably, is Blazing Saddles. This three-time Oscar-nominated 1974 send-up of classic westerns follows Bart (Cleavon Little) and his rise from slave to hero after he is made the sheriff of a small, valuable town by an evil, greedy politician, lending to some blistering racial commentary that could probably never be done the same way again.
Stream it on Hulu here (opens in new tab).
Monty Python And The Holy Grail (Netflix)
To piggy back off of that sentiment, I do not believe anyone can or should try to push the limits of absurdist humor quite as dangerously far as Monty Python did on their groundbreaking sketch series and their take on Arthurian literature in Monty Python and the Holy Grail. The 1975 cult favorite, co-directed by Terry Gilliam and the late Terry Jones, is commonly considered the British comedy troupe's finest cinematic achievement, thanks to such bits as a far too resilient Black Knight, a homicidal rabbit, very rude Frenchmen, and a hilariously abrupt conclusion that supposedly birthed the term "cop out."
Stream it on Netflix here (opens in new tab).
The Naked Gun: From The Files Of Police Squad (Netflix)
Speaking of dangerous levels of absurdity, the creators of Airplane! would soon reunite with the late, great Leslie Nielsen for the short-lived crime procedural spoof series Police Squad! This would later inspire the 1988 cinematic spin-off The Naked Gun: From the Files of Police Squad!, which is now widely praised as the ultimate detective parody for its laugh-a-minute visual humor and how Lt. Frank Drebin (Nielsen) always manages to fall ass-backwards into solving the case despite his frequent shortcomings.
Stream it on Netflix here (opens in new tab).
Austin Powers: International Man Of Mystery (Netflix)
As for the ultimate spy movie parody, I must pledge allegiance to Austin Powers: International Man of Mystery. Writer Mike Myers also stars as the titular, hip, British secret agent who learns that the cliches of classic. James Bond movies do not have the same effect they used to in 1997 after he wakes up from a 30-year cryogenic slumber to catch his arch nemesis Dr. Evil (Myers) in this highly quotable word-of-mouth hit.
Stream it on Netflix here (opens in new tab).
Hot Shots! (Starz)
It took more than three decades for Mike Myers to send up James Bond, but Jim Abrahams only five years to take a crack at 1986's Top Gun with this incessantly goofy spoof that is less a mockery of the hit Tom Cruise movie and more of another shameless recreation of it as a mere excuse for rapid fire sight gags. Hot Shots! stars Charlie Sheen as ill-tempered pilot Topper Harley, and eventually would reprise his role in 1993's Hot Shots! Part Deux, also available to stream on Starz (opens in new tab), but as more of beefed up, psychologically disturbed war hero, a la Rambo.
Stream it on Starz here (opens in new tab).
Young Frankenstein (Starz)
What director Mel Brooks and his star and co-writer Gene Wilder do with 1974's Young Frankenstein is more of a sequel to, in lieu of a recreation of, the 1931 horror classic loosely inspired by Mary Shelley's novel. This time, the story centered on the infamous scientist's begrudging grandson, Dr. Frederick "FRAHNK-en-STEEN," (Wilder) who visits Transylvania, only to take an unexpected interest in continuing his grandfather's work, in this slapstick Oscar-nominee that pre-dates horror movies spoofs, like the aforementioned Scary Movie, by a few decades.
Stream it on Starz here (opens in new tab).
Dude Bro Party Massacre III (Shudder)
I would like to make a case, however, for Dude Bro Party Massacre III, which stars co-writer Alec Owen as a loner who joins his slain twin brother's fraternity in hopes to find the killer. While it is pre-dated by Young Frankenstein and Scary Movie, this third chapter to a non-existent franchise comes the closest that any horror movie parody has to seeming like the real thing by framing itself as a VHS recording of a cable access rerun of a banned '80s slasher with all the cheesy gore, crappy acting, and fake commercial interludes you could ever ask for.
Stream it on Shudder here (opens in new tab).
Spaceballs (Starz)
I think that you can easily trace the roots of any modern day science fiction parody (The Orville, Rick & Morty, to name a few) back to 1987's Spaceballs, about a pilot (Bill Pullman) and his "half-man, half-dog" companion (John Candy) hired to rescue princess (Daphne Zuniga) from the evil Dark Helmet (Rick Moranis). As you can probably tell, this essentially the story of 1977's Star Wars, but from the mind of star, co-writer, and director Mel Brooks.
Stream it on Starz here (opens in new tab).
The Kentucky Fried Movie (Amazon Prime)
In the same year that Star Wars came out, John Landis teamed up with future Airplane! helmers David Zucker, Jim Abrahams, and Jerry Zucker to make The Kentucky Fried Movie. The title of this cult classic anthology film honestly has as clear of a connection to the movie itself as its own collection of uproarious, raunchy, and simply out-of-control individual segments have with each other. So, not very much, really, other than a shameless devotion to comedy.
Stream it on Amazon Prime here.
Hollywood Shuffle (Amazon Prime)
The title of Hollywood Shuffle, co-written by future Scary Movie director Keenen Ivory Wayans, is made perfectly clear from the get-go, however. Join aspiring actor Bobby Taylor (co-writer and director Robert Townsend, who self-financed the film) on a quest to navigate the world of show business without settling on the stereotypical film roles black actors would often be shoehorned into in the late 1980s.
Stream it on Amazon Prime here.
UHF (Amazon Prime)
From tearing the movie business a new one to putting a dent in your TV screen, UHF stars (and is co-written by) the world's favorite parody musician "Weird Al" Yankovic (alongside a pre-Seinfeld Michael Richards) as a hyperactive daydreamer appointed by his uncle to manage a dying television station that suddenly becomes an unexpected success by his willingness to try just about anything to earn some healthy ratings.
Stream it on Amazon Prime here.
Don't Be A Menace To South Central While Drinking Your Juice In The Hood (Starz)
If you have seen the films Menace II Society, South Central, Juice, or Boyz n the Hood, then you pretty much know what you are in for with Don't Be a Menace to South Central While Drinking Your Juice in the Hood. This inspired, thoroughly funny parody of urban dramas from the 1990s with brutally honest satirization of the realties those films reflect is co-stars Shawn and Marlon Wayans' cinematic screenwriting debut and remains one of the most acclaimed hits of their career.
Stream it on Starz here (opens in new tab).
So, what do you think? Are these the funniest cinematic spoofs of all time, or do you assume I have been poking fun at myself this whole time. Let us know in the comments and be sure to check back for more streaming recommendations here on CinemaBlend.
This poll is no longer available.
Your Daily Blend of Entertainment News
Jason has been writing since he was able to pick up a washable marker, with which he wrote his debut illustrated children's story, later transitioning to a short-lived comic book series and (very) amateur filmmaking before finally settling on pursuing a career in writing about movies in lieu of making them. Look for his name in just about any article related to Batman.