Special Illegal Machete Trailer Gets Political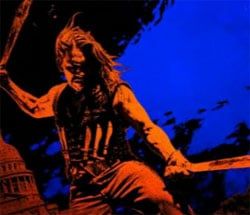 You've seen the Machete trailer they made before filming the movie, now get a look at the first Machete trailer put together afterwards. Robert Rodriguez has unveiled what he's calling his "Illegal" trailer for Machete, so named because, somewhat unexpectedly, Machete's getting all political.
I'm not sure this is the right format for political commentary. What happened to all the blood, guts, and boobies? Rightheaded or not Rodriguez put this trailer together and handed it over to AICN as a way of commenting on or cashing in on (you be the judge) the immigration debate raging in Arizona. You can guess which side Machete comes down on.
Except does anyone care what side he comes down on? The last thing I look for in a Machete movie is an immigration rights protest rally, but this trailer contains more than one. If you can look past that, it does some pretty badass things, seamlessly melding together footage lifted from the pre-shooting trailer with footage shot for the feature film which gives us our first look at Jessica Alba, Robert De Niro, Lindsay Lohan, Michelle Rodriguez, and Steven Seagal wielding a crazy ass Samurai sword. Click the image below to check out the trailer on AICN.
For comparison purposes, here's the Machete trailer shot for Grindhouse, before it was turned into an unexpectedly political feature film:
Your Daily Blend of Entertainment News
Thank you for signing up to CinemaBlend. You will receive a verification email shortly.
There was a problem. Please refresh the page and try again.