Spike Jonze's Her Will Close The New York Film Festival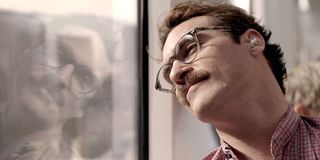 We should have seen it coming. In the last few weeks, every new film that has debuted a stunning trailer has, the next day, gone on to become part of the New York Film Festival lineup. First it was the Tom Hanks starring Captain Phillips, which will open the fest, then it was Ben Stiller's The Secret Life of Walter Mitty, which will be the centerpiece. Today it's Spike Jonze's Her, today announced by the Film Society of Lincoln Center as the closing night film of the festival, which kicks off on September 13. Her will conclude things on October 13. Here's that incredible trailer that debuted yesterday, in case you missed it:
In an interview at FilmLinc.com that accompanied the announcement, Jonze talked about the film in depth for the first time, describing it first and foremost as "a relationship movie," though imbued with high-concept ideas about technology and how we relate to it. Joaquin Phoenix plays a lonely city-dweller who downloads a software program that is a female voice (Scarlett Johansson), but also a personality that he slowly falls in love with. Set in the near-ish future and in Los Angeles, Jonze says the film required that he establish a specific vision of the future, in which Los Angeles is an even more comfortable place to live than it is now, but still isolating:
His most fascinating comment, though, was about the look of the film from Danish cinematographer Hoyte van Hoytema, who Jonze says brought a "feminine" aesthetic to Her:
I don't totally know that Jonze means by "feminine," but given that the supporting cast includes Rooney Mara, Amy Adams and Olivia Wilde, there's more than enough attention-getting female power to go around. A film like Her is in danger of falling into the "bland young man is transformed by a quirky young woman" trap-- even if that quirky young woman happens to be a computer. The notion that Jonze wants more emphasis on his female cast is a strong sign he's going somewhere different with it-- though given that he's the director of Being John Malkovich and Adaptation, we really shouldn't have expected anything different.
After its NYFF premiere, Her will open in theaters November 20. We'll have full coverage of the New York Film Festival starting in September, so get ready! Festival season isn't far away at all.
Your Daily Blend of Entertainment News
Staff Writer at CinemaBlend