Spy Kids 4 Bringing Back Smell-O-Vision With Aromascope, The Fourth Dimension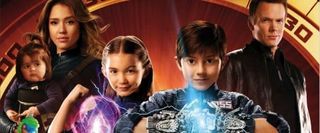 Because Spy Kids 3-D: Game Over was one of the first films of the modern era of 3D, the pressure is obviously on for the next film int he franchise, Spy Kids 4: All The Time In The World, to kick it up to the next level. Instead of taking advantage of the newest 3D technology and trying to outdo James Cameron, though, they're simply moving on to the next, even more ridiculous gimmick: smell-o-vision.
Actually, it's called Aromascope, but it's still the same basic scratch-n-sniff concept: moviegoers will be handed cards with 8 aromas on them, and at certain points in the film a number will pop up onscreen instructing you which smell to rub at the given moment. As the press release wants you to know, "When each of the 8 aromas are unleashed you will get to experience a special moment in the film and be transported into scenes in the family adventure film. This fun added attraction takes the audience beyond sight and sound and into a symphony of scents as the movie is coming to life."
Though Aromascope is obviously a moneymaking gambit-- they're now calling the film Spy Kids: All The Time In The World In 4D-- it's not the craven kind that automatically boosts box office through higher ticket prices. As director Robert Rodriguez says in the release, "Families are going to love the interactivity of this new addition to the movie going experience. And best of all, you won't have to pay extra for 4D Aromascope, which will be provided to every theater whether it be 2D or 3D." Of course, whether or not the movie is worth your money at all is something we'll have to decide closer to the release date of August 18.
At this point in the life of 3D technology, I actually appreciate a studio that's willing to embrace it as a good old-fashioned gimmick. Yes, the press release crows about how Aromascope will "enhance the action, adventure and comedy," but I think we all know the cards give the kids a gimmick to latch onto, like the toy in a Happy Meal that you have to spent an hour and a half eating in the dark. Hey, by the time the movie comes out, summer will almost be over, kids will be antsy. Whatever it takes to keep 'em in the seats, right?
Staff Writer at CinemaBlend
Your Daily Blend of Entertainment News
Thank you for signing up to CinemaBlend. You will receive a verification email shortly.
There was a problem. Please refresh the page and try again.