Star Trek 2 Finally Rescheduled for 2013 Release Date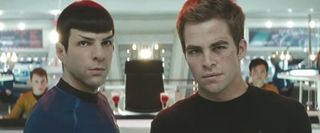 After doggedly hanging on to an official June 29, 2012 release date even after it was apparent to everyone, including J.J. Abrams, that it was never going to happen, Paramount has finally officially rescheduled their big Star Trek sequel. In a phone call about all of Paramount's potential franchises, Viacom CEO Philippe Dauman said that the second Star Trek is being developed for a a potential 2013 release, and that director/producer J.J. Abrams is "focused on developing" it, which we pretty much knew by now thanks to all the hints he's been dropping.
Other franchises mentioned in the call, according to THR, were Paranormal Activity and Transformers. Neither seem to be nearly as far along as Star Trek 2, but Dauman said they were "developing ideas" for both; in the case of Paranormal Activity that probably means figuring out how to open up the relatively limited focus of the first three movies, and for Transformers they are probably just negotiating with Michael Bay, who said emphatically last time there were rumors about him returning as a director that they weren't true. Cynics say that was just a negotiating ploy, and I for one am right there with them.
It's nice to see sprinkled in among the sequels that either seem logically impossible-- Paranormal Activity-- or just unnecessary-- Transformers of course-- that there's Star Trek 2, the sequel that so many of us fervently want and that Abrams and his crew have really spent their time developing, to the point of breezing past the studio mandated release date. "Sometime in 2013" isn't exactly an ironclad promise that it's happening, but at least Paramount seems to have come to terms with when their movie is actually coming. Now we can just hope this is finally a release date that sticks.
Staff Writer at CinemaBlend
Your Daily Blend of Entertainment News
Thank you for signing up to CinemaBlend. You will receive a verification email shortly.
There was a problem. Please refresh the page and try again.