Star Wars: The Force Awakens Is About To Hit Another Huge Milestone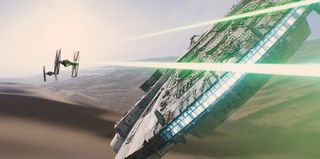 Sure, it isn't going to dethrone Avatar as the highest-grossing movie of all time, but Star Wars: The Force Awakens has still made a ridiculous amount of money, and continues to do so. At the domestic box office, it added another $10 million over the weekend, and should cross another huge milestone in relatively short order, as experts estimate that The Force Awakens is about to hit the $2 billion threshold. You have to assume that Disney and Lucasfilm are rather pleased with that number.
Only two movies have breached the $2 billion mark, Avatar and Titanic—both directed by James Cameron—but Variety reports that Star Wars: The Force Awakens should join this very exclusive club by the end of the week. The worldwide take thus far for J.J. Abrams' epic space opera is $1.983 billion, which places it just $17 million away from this mark.
Domestically, no movie has even come close to the numbers that Star Wars: The Force Awakens has put up. Currently sitting at $895 million, that's a full $125 million ahead of second place Avatar. On the international stage, however, it is lagging a bit behind. Of Avatar's $2.78 billion haul, $2.03 billion of that came from outside of the United States, while Titanic grossed $1.53 billion from international markets.
Hell, Star Wars: The Force Awakens isn't even the highest-grossing 2015 movie internationally. With $1.09 billion from foreign territories, it still sits behind the James Wan-directed action blockbuster Furious 7, which scored $1.16 billion outside of the U.S. Given the current trajectory, however, this likely won't be the case much longer, especially as The Force Awakens earned another $12.6 million internationally last weekend.
It's crazy to think how fast Star Wars: The Force Awakens got started at the box office. It took Avatar 48 weeks to set the previous domestic high water mark at $760 million. The Force Awakens demolished that mark in just a handful of weeks. This has just been watching one record after another get smashed into dust—fastest movie to $100 million, fastest to $200 million, and so on.
Disney paid more than $4 billion for Lucasfilm a few years back, and right now, that may very well wind up being one hell of a bargain. The Force Awakens is just the first of six planned Star Wars movies, and Disney CEO Bob Iger has said there will be more after that. Some experts even estimate that Star Wars tie-in merchandise will top $5 billion in just the first year after The Force Awakens, and Disney will see a hefty chunk of that.
It will be interesting to see if the subsequent Star Wars movies match the box office performance of The Force Awakens, but if the popular and critical responses are any indication, there is obviously still a huge interest in that far, far away galaxy.
Your Daily Blend of Entertainment News
Thank you for signing up to CinemaBlend. You will receive a verification email shortly.
There was a problem. Please refresh the page and try again.