Why Star Wars: The Force Awakens May Struggle To Beat Avatar's Global Box Office Record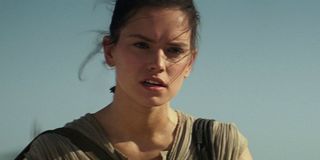 Star Wars: The Force Awakens has already broken umpteen box office records since it was released just under a month ago. Its supreme financial performance was hardly surprising considering just how many folks were interested in seeing the film not just once, but at least half a dozen times. However, despite its mega-start, it's been predicted that Star Wars: The Force Awakens is actually unlikely to break Avatar's hold as the highest grossing film of all time. Instead, it will have to settle for second place.
Currently, Star Wars: The Force Awakens has hauled in over $1.763 billion in the short spell that it's been in cinemas. On the way, it claimed the highest-grossing worldwide opening of all time, reached $1 billion faster than any other film, is now the most successful US film ever, and is already the third highest grossing film of all time too, just behind James Cameron's Titanic and Avatar.
It's believed that Star Wars: The Force Awakens will ultimately eclipse Titanic's $2.187 billion gross. However, reaching Avatar's $2.788 billion is going to be a struggle. Why? Well, because The Force Awakens just isn't performing as strongly in parts of Asia and Latin America as Avatar did.
Star Wars doesn't have the same reputation and legacy in these markets as it does across North America and Europe, and these markets have so far failed to be impressed by the decision to pair the original Star Wars heroes with a new batch of characters.
Meanwhile, another factor that will likely stop Star Wars: The Force Awakens from beating Avatar's total is just how great an opening month it's had. Because of its lighting quick break to $1.75 billion, it's believed that The Force Awakens won't have the longevity that allowed Avatar to repeatedly rack up numbers months after it was released.
In the end, while Avatar amassed $749.7 million at the US box office, it was abroad when its numbers were truly staggering, as internationally it took in $2 billion. Currently, Star Wars: The Force Awakens is at $815 million domestically, and it's likely to top just above the $900 million mark.
Internationally though, box office experts have told The Hollywood Reporter that they only expect Star Wars: The Force Awakens to reach somewhere between $1.2 billion and $1.4 billion. This means that the seventh instalment to the Star Wars franchise is only likely to bring home somewhere between $2.1 billion and $2.3, maybe even $2.4, billion total.
But despite its projected measly box office sum, Star Wars: The Force Awakens has still been a monumental smash hit for Disney, who spent $4 billion to buy the franchise from Lucasfilm. That's because it's helped to legitimise the series again, and now fans are already pining for further instalments, one of which will come at the end of this year with Rogue One, while Episode VIII will follow just five months later. And don't forget the toys too. The endless mountains of toys.
Your Daily Blend of Entertainment News