Captain Phasma Will Definitely Apppear in Episode VIII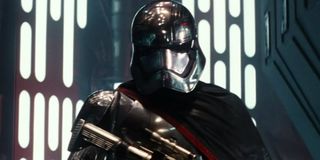 Warning: Spoilers for Star Wars: The Force Awakens
Look, Star Wars: The Force Awakens has more than proven itself as a box office giant and a critical success. Does that mean that the film is flawless? Of course not. One of the most glaring flaws in the film comes in the form of the woefully underdeveloped Captain Phasma (Gwendoline Christie). Despite her awesome look and all of the hype associated with the character, she ultimately had very little impact on The Force Awakens. This problem will seemingly be rectified in the future, as she will have an expanded role in Episode VIII.
Gwendoline Christie spoke to People while on the red carpet at the SAG awards this weekend and confirmed the return of Phasma when Star Wars: Episode VIII hits theaters:
Despite how badass Captain Phasma looked in all of the promotional material for the film, by the time the film finally hit theaters, the character had very much found herself relegated to the background of the film. She carried a sense of menace with her during her early appearances, but there ultimately was very little pay off once Finn and Han Solo decided to throw her down a garbage chute, after she dooms Starkiller base by acquiescing to their demands and dropping its shields. Many rumors had suggested that the character would imbue the franchise with the same level of menace and general badass vibes that Boba Fett had originally brought during his first appearance, which sadly did not turn out to be the case. Given the actress' extensive combat experience on projects like Game of Thrones it would be a shame for her to never get her hands dirty at some point during the new trilogy of Star Wars films.
There have been numerous fan theories about how Phasma could potentially be fleshed out in future episodes. Some have theorized that she's actually a double agent for the resistance who sends Finn on a mission to meet up with Poe Dameron and free him, while others have posited that she's a force sensitive being in league with Snoke. Really at this stage it seems as though anything could happen because we know so little about her as a character. Check out the rest of Christie's conversation with People below:
We will just have to wait and see how Star Wars: Episode VIII expands and fleshes out the role of Captain Phasma. Although she had very little to do in Episode VII, we get the sense that there's something about her that we don't quite know yet. Star Wars: Episode VIII will hit theaters on December 15, 2017.
Originally from Connecticut, Conner grew up in San Diego and graduated from Chapman University in 2014. He now lives in Los Angeles working in and around the entertainment industry and can mostly be found binging horror movies and chugging coffee.
Your Daily Blend of Entertainment News
Thank you for signing up to CinemaBlend. You will receive a verification email shortly.
There was a problem. Please refresh the page and try again.