Star Wars Might Choose Michael Fassbender To Play Boba Fett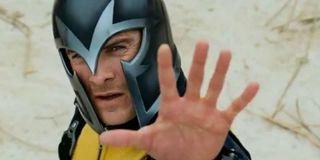 While J.J. Abrams continues revving up for the release of Star Wars: The Force Awakens, Josh Trank and Gareth Edwards are busy working on their own spinoff films, to be released in the years between installments of the main trilogy. While Disney announced these projects a long time ago, however, they have yet to actually release any information regarding what they will be about. That being said, Boba Fett has been a long-rumored subject for one of the movies, and a new report circulating the web has put into the aether that the frontrunner for the part may be none other than Michael Fassbender.
Take all of this with a grain of salt for the time being, because this story comes from a site called iKwiz and is still unconfirmed. The site claims to have heard from an inside source that Michael Fassbender of X-Men: Days of Future Past is the top choice to play Boba Fett. If the information proves to be accurate, then it would also confirm that the first film, which will be released in 2016 and is directed by Edwards, will center on the iconic bounty hunter. It was recently reported that Tatiana Maslany (Orphan Black), Rooney Mara (Girl with the Dragon Tattoo), Kate Mara (Fantastic Four) and Felicity Jones (The Theory of Everything) were testing for a lead role in the film, as well. Though plot details are still under wraps, there has been a good deal of suggestion saying that the movie may center on a team of bounty huntersstealing plans for the first Death Star - which is a strong suggestion that Boba Fett could be involved.
According to iKwiz's source, however, the potential future for Boba Fett is possibly a lot more complicated than you'd imagine. The rumor says that Disney has larger plans to include Boba Fett in more films, and adds that a plan has been figured out that would allow the character to stick around for years and years to come. If the report can be believed, the franchise may move forward with the name Boba Fett being a "mantle" that can be passed down to different generations, along with the signature Mandalorian armor and the badass spaceship known as Slave I. The idea behind this is that the studio recognizes the intergalactic bounty hunter's popularity and wants to find a way to keep the masses happy.
Should Michael Fassbender actually sign on to be in the Star Wars spin-off, he would just be the latest incredibly talented actor to join the rejuvenated franchise - along with Star Wars: Episode: The Force Awakens' Oscar Isaac, Andy Serkis, and Max von Sydow. Of course, there is also extreme reason to doubt this story. Gareth Edwards' feature is going to be starting up production in the next few months, and that schedule may directly interfere with everything else that Fassbender is doing in 2015. Not only will he once again be reprising his role as Magneto in Bryan Singer's X-Men: Apocalypse (due out next May), but he is also set to play the lead character in the big screen adaptation of the video game Assassin's Creed (which is heading to theaters December 2016). Given the scale of these projects and the importance of Fassbender's role in them, it's pretty hard to imagine that he would have the time to take on a character as big as Boba Fett. Of course, if he were to get the part, it's hard to argue with the choice.
Your Daily Blend of Entertainment News
Thank you for signing up to CinemaBlend. You will receive a verification email shortly.
There was a problem. Please refresh the page and try again.