The Star Wars Universe Just Lost One Of Its Brightest Stars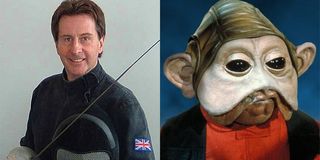 The name Richard Bonehill may not immediately evoke mental imagery of the Star Wars franchise. However, rest assured, it has been greatly associated with it in the form of several characters quite visibly present in the Original Trilogy. It has been learned that Bonehill, the actor and stuntman probably best known as Lando Calrissian's diminutive Millennium Falcon alien co-pilot, Nien Numb, has sadly passed away on February 4 at the age of 67. Certainly, Bonehill's contributions to Star Wars has been one of the more untold stories in the mainstream, but they have been vast.
With Bonehill's passing having been confirmed by England's Truro Fencing Club, which he headed, the actor leaves behind an eclectic legacy of film and television appearances in films like Flash Gordon, Top Secret!, Doctor Who, Rob Roy and the first Highlander film. However, his work in Star Wars sequels in 1980's The Empire Strikes Back and 1983's Return of the Jedi would produce an array of characters that would be instantly recognizable to even the most casual of Star Wars viewers.
Of all of Bonehill's roles, that of Nien Numb is the most prominent. However, it wasn't exactly a conventional performance. The character who sat in the Falcon cockpit with Billy Dee Williams' Lando Calrissian and famously chuckled after the second Death Star was blown to smithereens, was actually a puppet controlled from operator, Mike Quinn, hidden underneath. Bonehill provided us, masked and costumed, with the wide-shot stand-in version of Numb. Thus, he is the actor generally attributed to the briefly seen, but unforgettable character.
Besides playing a number of nameless Stormtroopers and Snowtroopers throughout the films, Richard Bonehill has portrayed action-figure-inspiring court denizens of Jabba the Hutt, Ree-Yees and Mosep Binneed. When not hiding under latex masks, he also played a Hoth Rebel Officer in Empire named Palo Torshan, who was seen attempting to calm an irate tauntaun. His work with the Rebellion also took form in playing a Mon Calamari X-Wing pilot who flew in the longshot dogfight near the second Death Star in Jedi.
It's quite a broad range of appearances. However, when asked in a 2006 interview, which one was his favorite, Bonehill did not hesitate:
With Richard Bonehill's passing, the Star Wars fan community mourn a man who his fencing club referred to as "a great leader and an inspiration." Rest in peace, Mr. Bonehill.
Your Daily Blend of Entertainment News