Stephen Frears Up To Direct Sacha Baron Cohen's Freddie Mercury Biopic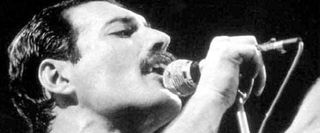 Though Sacha Baron Cohen draws the most notice for his politically incorrect improv comedy—as seen in Borat, Bruno and the upcoming The Dictator—he has been steadily carving out a reputation as a seriously skilled actor with eye-catching supporting roles in the dark musical Sweeney Todd and the whimsical adventure Hugo. But now Cohen is gearing up to tackle his most challenging role yet, portraying the quintessential rock star Freddie Mercury in the long-gestating biopic from producer Graham King.
The drama will focus on the Queen frontman's rise to fame, from the formation of the groundbreaking band through their monumental performance at Live Aid in 1985. Variety reports the presently untitled biopic is at long last moving forward. Cohen has signed on to star and will co-produce alongside Graham, and now the pair is seeking out a director for the sure-to-rock project that has already secured the music rights to many of Queen's hits including "We Will Rock You," "We Are the Champions," and "Bohemian Rhapsody." At the top of their list is director Stephen Frears, who most recently helmed the soon-to-hit dramedy Lay the Favorite.
Frears is an inspired pick. Not only did he show a deep passion and understanding for the power of rock music with High Fidelity, but he has also proven an extraordinary crafter of biopics, with the cheeky Mrs. Henderson Presents and the understated yet utterly compelling The Queen. Frears' work typically shows a respect for his subject and characters, while maintaining a keen sense of humor that refuses to take them too seriously. It's an intoxicating dichotomy that would serve the bittersweet story of Mercury brilliantly. However, while he is—by insider accounts—the frontrunner for the biopic's director's chair, Frears has yet to enter into negotiations. Hopefully, once he wraps production on the now-filming HBO drama Muhammad Ali's Greatest Fight, Frears will take a meeting with Cohen and Graham, and this intriguing project can really get rolling.
GK Films will produce the untitled Freddie Mercury biopic in partnership with Tribeca Productions and Queens Films, which was formed by Mercury's surviving bandmates (Brian May, Roger Taylor and John Deacon) so that they might more actively be involved in the film's production. The latest draft of the script is credited to Peter Morgan (Frost/Nixon, The Queen), and the writing team of Stephen J. Rivele and Christopher Wilkinson (Ali, Nixon).
Staff writer at CinemaBlend.
Your Daily Blend of Entertainment News
Thank you for signing up to CinemaBlend. You will receive a verification email shortly.
There was a problem. Please refresh the page and try again.