Stephen King Freaks Out Over Crimson Peak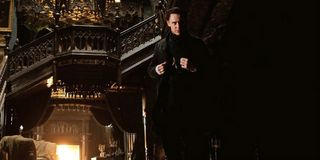 The King of Horror has opened up on one of the most anticipated films of the year, and his high praise has only given us more to look forward to. When you're a world renowned horror author with an incredible cult-following, your opinions matter. So when Guillermo del Toro gave Stephen King a first look at his upcoming film, Crimson Peak the author's reaction was sure to put some weight on how the film was received. And from the King's response, it looks like we're in for a real treat with this horrifying flick.
And King didn't stop there either. Just the phrase 'fucking terrifying' would be welcomed praise from the best-selling author. But, the film touched King so much so that he went on to add an even bigger compliment.
Damn. If I wasn't already excited to see Tom Hiddleston take on the villainous gentleman role of Thomas Sharpe, I certainly am now. Stephen King's kind words towards the film are some of the first reactions we've heard, since del Toro is still putting some finishing touches on his product for its Fall release this year. But, King's compliments were also met by his son and another accomplished author, Joe Hill who claimed Crimson Peak to be the most beautiful horror film of them all. He also went on to tweet that del Toro's masterpiece is a "blood-soaked AGE OF INNOCENCE, a gloriously sick waltz through Daphne Du Maurier territory".
Crimson Peak tells the story of a young author named Edith Cushing, played by Mia Wasikowska who upon marrying a mysterious 19th century gentleman, Hiddleston's Thomas Sharpe, moves into a dangerously eerie mansion that her betrothed once called home. Thomas begins to show some unsuspected qualities, as does the rot-infested mansion, and Edith is forced to question her original perception of the once charming fellow. While the mysterious evil lingers through the house, tormenting Edith, a kind Dr. Alan McMichael, played by Charlie Hunnam hopes to sweep her away from the madness. Take a look at the haunting trailer below:
For Guillermo del Toro, this film marks a return to the horror genre since our last glimpse with Hellboy II: The Golden Army. The director often shifts between dark fantasy pieces such as the critically acclaimed, Pan's Labyrinth and more mainstream action movies such as his most recent, Pacific Rim. Crimson Peak is sure to top the box office with names attached such as Hiddleston, Wasikowska, Hunnam, and Jessica Chastain, but with praise from the King and Prince of Horror themselves, this film looks to gain serious critical reception as well. Crimson Peak looks to 'fucking terrify' audiences when it hits theaters October 16, 2015.
Your Daily Blend of Entertainment News
Thank you for signing up to CinemaBlend. You will receive a verification email shortly.
There was a problem. Please refresh the page and try again.