Does Stephen King Like The Latest Screenplay For The Stand?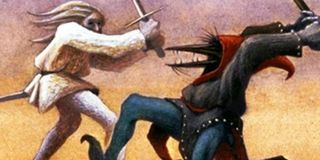 Hollywood's infatuation with the idea of adapting Stephen King's massive post-apocalyptic novel The Stand is still alive – and now another director is taking aim at attempting to tell the epic tale of good and evil on the big screen. The Fault In Our Stars helmer Josh Boone has joined the ranks of men like George Romero, David Yates, and Ben Affleck in the ever growing list of filmmakers attached to the project. And he seems to have Stephen King's official blessing.
Boone recently sat down with Collider to discuss his plans for taking the 1,153-page novel and chopping it down into a three hour feature. As is to be expected, some cuts are going to have to be made…
The young filmmaker tells the website that he finished his draft of the script a month ago and that's he pleased with what's on the page. Boone says he sent a copy to author Stephen King and that King "absolutely loved it," which is a good sign.
The real challenge here, the one that makes adapting The Stand such a terrible idea, is that Warner Bros. is insistent on turning the novel into a single film. The books tells the tale of a super-flu nicknamed Captain Trips that decimates humanity. The story then follows a desperate group of survivors as they struggle to build a new world by either following an angelic black woman named Mother Abigail, or an ancient evil known as Randall Flagg. Like most of King's work, the novel is a bit longer than it needs to be, but there's no way anyone can make a version that's going to satisfy King's legion of fans with a three-hour time limit. In an age where a single book like The Hobbit spawned three lengthy movies, the idea of trying to cram The Stand down into one seems at best misguided and, at worst, absolutely clueless.
Josh Boone believes he's up for the challenge, though.
It seems likely that some of the rich and varied cast of characters will be getting excised or merged into others. The director goes on to reveal that while the script is ready, he's still a long way off from an actual start date for filming. Boone surmises it could be spring 2015 at the soonest before cameras start rolling, because he's still bogged down with pre-production work like casting and budget meetings.
Speaking of casting, the plan is for this version of The Stand to feature an "A-list cast". Actor Matthew McConaughey has already been rumored to be in the running for the coveted role of Randall Flagg.
What do you guys think? Can a three-hour version of The Stand be faithful to the source material without cutting too much in the process or is this a bad idea that's sure to appease no one? Weigh in below.
Your Daily Blend of Entertainment News
Thank you for signing up to CinemaBlend. You will receive a verification email shortly.
There was a problem. Please refresh the page and try again.