Crimson Peak Trailer Has Tom Hiddleston Among The Gothic And Supernatural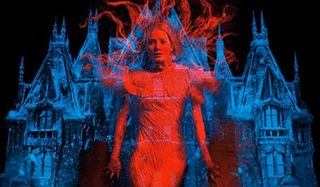 The trailer for the upcoming horror thriller from director, Guillermo del Toro, Crimson Peak has made its haunting, mind-blowing debut. From what we see, it's riddled with fantastic, horrifically creepy imagery put through the lens of a Victorian, steampunkish aesthetic style. This film certainly appears to have Del Toro back at his visually vicious best.
"Has anyone died in this house? Specific deaths? Violent deaths?" She asks? Well, considering that the abode which you currently occupy seemingly resembles the structural epitome of "violent deaths," I think we can at least make an educated guess on that answer being a resounding, "YES!"
The film stars Tom Hiddleston as Thomas Sharpe, a mysterious 19th century gentleman coming from what appears to be a desirable pedigree. He romances and marries a young, exquisite author named Edith Cushing, played by Mia Wasikowska. In the midst of an amorous newlywed bliss, Thomas felt it was as good a time as any to take Edith to a giant, creepy, rot-infested mansion he used to call home, located in the mountainous region of Cumbria in northern England. Once there, she finds it to be an even more dangerous and creepy of a place than it appeared on the estate's inauspicious exterior.
Later meeting Thomas' clearly emotionally-scarred sister, Lucille, played by Jessica Chastain, secrets would become apparent; not just about this gigantic abhorrent abode that time forgot, but about her new husband, who may not be the sweet, charming fellow that he seemed. Soon, ravaging wraiths makes themselves present, tormenting young Edith, which will provide her fodder for the book she'll never live to write if things keep going the way they seem. Thankfully, another guy has her back in Dr. Alan McMichael, played by Charlie Hunnam, who is looking to take her away from this mansion of madness. (And maybe woo her away from her creepy new husband. Especially after what he did to New York and Asgard.)
For director, Guillermo del Toro, this film represents a return to the ultra-stylistic horror-leaning genre that we last saw him visit with 2008's Hellboy II: The Golden Army. (Not counting his work directing the TV pilot for The Strain.) However, one look at the imaginative, atmospheric, shadowy mise-en-scène and thoughts may immediately be evoked of his groundbreaking 2007 fantasy epic, Pan's Labyrinth.
While Del Toro took a bit of a giant robotic stylistic detour in 2013 with Pacific Rim, the director actually once had his hands on The Hobbit until Peter Jackson eventually swooped back in, prompting dollar-sign-eyed executives to turn that into trilogy. For Del Toro, however, he would be left itching to make another atmospheric epic. Afterwards, an adaptation of H.P. Lovecraft's At The Mountains of Madness, which would have had James Cameron producing, would also slip through his fingers. Now, Crimson Peak seems to represent Del Toro's chance to get back to the gothic, reality-bending repertoire that brought him to the dance with this love-letter to the old haunted house genre.
Crimson Peak looks to break up Victorian-era newlyweds with extremely creepy, ectoplasmic game-changing secrets on October 16.
Your Daily Blend of Entertainment News
Thank you for signing up to CinemaBlend. You will receive a verification email shortly.
There was a problem. Please refresh the page and try again.