Why Stephen King Is Finally Letting His Novel It Become A Movie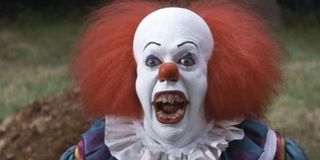 The King of Horror has finally given his blessing for a movie adaptation of his terrifying novel, It. Stephen King has watched many of his 60+ novels adapted into film, television, comic books, theater and even music. But one specifically epic novel, It, has not seen the screen time it deserves, and after reading a new script for a movie version, King has given the go ahead.
The project's producer, Dan Lin (also producer of The Lego Movie) discussed the new project with Vulture and commented on the author's excitement. He said:
It's not surprising that King finally gave the go ahead. Other than an ABC miniseries in 1990 the novel hasn't been touched. So when Dan Lin signed on True Detective director, Cary Fukunaga, it started to push the idea into motion. Fukunaga wrote the screenplay for It along with Chase Palmer and David Kajganich. But, if anyone can reproduce a novel so psychotically terrifying, it's Fukunaga whose character study in the HBO series True Detective left us with chills. And for an author as prestigious as Stephen King to give that much praise for the script, you know it's going to be good.
While True Detective and the novel, It may not have as much in common plot wise, they both share a heavy character-driven narrative. Also, the way that Fukunaga creates a sort of eerie, supernatural mood through his cinematography is exactly the type of creepiness an adaption of a Stephen King novel needs. Lin confirmed that Fukunaga has been working on development for the past few years, and is signed on officially for the first movie of the two-part series, in the works at least writing the second.
The novel, published in 1986, follows seven children as they are terrorized by a shape-shifting creature that primarily appears in the form of a clown. Dan Lin confirmed that because of the length and depth of the novel, it will be split into two movies. The first is to explore the lives of the children who are tormented by It. Lin calls it a "coming-of-age story". The second film will then skip ahead in time to when the same group of characters are adults, and come together to continue the fight against, It. Lin didn't mention if the skip ahead in time will be set in our modern world, and the first film set in the 80s where the novel took place, but it would be an interesting comparison to make.
There isn't a set release date yet, but the film is confirmed to start official preparations in March 2015 and shooting in summer 2015.
Your Daily Blend of Entertainment News
Your Daily Blend of Entertainment News
Thank you for signing up to CinemaBlend. You will receive a verification email shortly.
There was a problem. Please refresh the page and try again.