Steve Kloves In Talks To Write And Direct Defending Jacob Feature Adaptation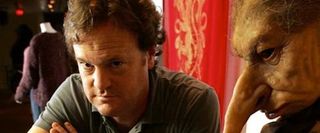 Having written seven of the eight screenplays for the Harry Potter films, Steve Kloves knows a thing or two about adapting a novel for a feature film. Recently we learned that he was in talks to pen a new adaptation of Rudyard Kipling's The Jungle Book, and now it looks like he may have yet another adaptation project on the horizon, which he may also get to direct.
Variety is reporting that Kloves is in talks with Warner Bros. to write and direct the Mary Parent produced adaptation of William Landay's legal thriller novel Defending Jacob. Compared to novels Presumed Innocent and Ordinary People, the story is set in an upperclass Boston suburb, and follows a district attorney who takes time away from his job in order to defend his son, who's been charged with murder. Apparently, he's less than certain over just how innocent his son is. Sounds like a pretty major conflict of interest on this case, but one that likely makes for an interesting story.
As a fan of the Harry Potter series, I should admit - knowing this likely puts me in the minority - while Order of the Phoenix was not among my favorite of the books in the series, the film proved to be one of my favorites in terms of how the story was adapted. Of course, Phoenix happens to be the one film in the series that Kloves didn't write (Michael Goldenberg penned that screenplay). With that said, all of the films were great and given the rich world Rowling created, with increasingly complex character history and development as the series went on, adapting those books to a regular-length film that did the story justice was not likely to be an easy task. Kloves' experience on those films may help him in adapting Landay's novel. As for directing, his experience with that is limited to two films (Flesh and Bone and The Fabulous Baker Boys) years ago. Assuming this deal goes through, it should be interesting to see how he does not only in converting the novel to a screenplay but then getting to direct.
Your Daily Blend of Entertainment News
Thank you for signing up to CinemaBlend. You will receive a verification email shortly.
There was a problem. Please refresh the page and try again.