Steve Martin, Angelina Jolie And Angela Lansbury To Receive Honorary Oscars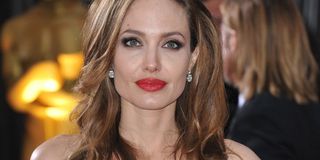 The honorary Oscars were shoved out of the main Academy Awards broadcast a few years back, presumably to give more time to awkward montages and poorly thought-out musical numbers, but Angelina Jolie may have the power to bring the back to primetime. Jolie will be receiving the Jean Hersholt Humanitarian Award at next year's Governor's Awards, while Angela Lansbury, Steve Martin and costume designer Piero Tosi will receive Honorary Oscars. The Governor's Awards will take place on November 16, and the honorees are typically brought onstage at some point briefly during the Academy Awards broadcast, which is scheduled for March 2 next year.
Jolie is, somewhat unbelievably, the only previous Oscar winner in the bunch, having snagged the Best Supporting Actress statue for Girl, Interrupted in 1999. Unlike the Honorary Oscar, the Humanitarian Award isn't typically reserved for people who haven't won statues-- Paul Newman, Elizabeth Taylor, and Audrey Hepburn have all won the prize-- and Jolie has done plenty to earn it, with tireless activism for a series of humanitarian efforts. Her directorial debut In The Land Of Blood And Honey was about the victims of rape and sexual abuse during the Bosnian War, and her next effort Unbroken is another story of wartime survival. The fact that she is also very, very famous and could bring eyeballs even with a brief appearance during the Oscar telecast may be relevant, but let's not diminish how much she actually deserves the award by talking too much about it.
Lansbury, Martin and Tosi all make for equally deserving nominees-- Tosi is the lest famous of the group but actually the most-nominated, earning five Academy Awards nods for his work on the films La traviata, La cage aux Folles, Ludwig, Death in Venice and The Leopard. Martin is a less accomplished screen actor that he is a legendary TV and stand-up comedy presence, but he's hosted the awards twice, which has to be enough to forgive him for The Pink Panther 2. And Lansbury, unbelievably, has never won an Oscar, despite three nominations for 1944's Gaslight, 1945's The Picture of Dorian Gray and 1962's The Manchurian Candidate. She would deserve the Oscar for her voice work in the Best Picture-nominated Beauty and the Beast alone, as far as I'm concerned.
Tosi and Martin have no film projects coming up, but Lansbury is set to appear in Wes Anderson's Grand Budapest Hotel, while Jolie remains incredibly famous and incredibly busy. In addition to directing Unbroken, she's slated to appear as the titular wicked queen in Maleficent on July 2 next year.
(Angelina Jolie image via Featureflash (opens in new tab) / Shutterstock.com (opens in new tab))
Your Daily Blend of Entertainment News
Staff Writer at CinemaBlend
Your Daily Blend of Entertainment News
Thank you for signing up to CinemaBlend. You will receive a verification email shortly.
There was a problem. Please refresh the page and try again.