Steve Martin Woos Meryl Streep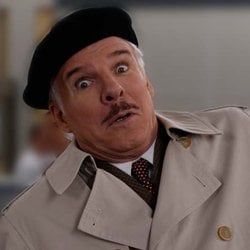 It's been a while since Steve Martin went the mainstream romantic comedy route-- the creepy, forgettable Shopgirl aside--but I still remember him fondly from the Father of the Bride movies of my youth. Now Martin will reteam with Nancy Meyers, who co-wrote those movies, to vie for Meryl Streep's affection in an untitled romantic comedy.
Variety is reporting that Martin will compete with Alec Baldwin to win over Streep in the movie that begins shooting in February. Meyers has made two recent romantic comedies that were modest successes, one of them The Holiday and the other Something's Gotta Give, which similarly took on romance between people old enough for AARP cards.
Meryl Streep clearly proved she's still got it in the romance department in Mamma Mia!, and Steve Martin was the original silver fox long before Anderson Cooper showed up. So yeah, go for it Steve! I'm not sure how any woman could choose between Martin and Baldwin, but Meryl Streep is a smart one; I'm sure she'll work it out.
Staff Writer at CinemaBlend
Your Daily Blend of Entertainment News
Thank you for signing up to CinemaBlend. You will receive a verification email shortly.
There was a problem. Please refresh the page and try again.