Still Alice Trailer: Watch Julianne Moore Emerge As An Oscar Frontrunner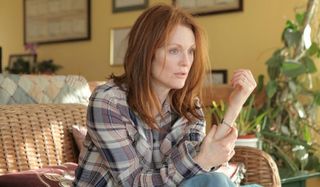 Talks of Julianne Moore's incredible performance in Still Alice surfaced after the film's premiere at the 2014 Toronto Film Festival. For the general public, though, there hasn't been an opportunity to see the highly praised performance. That was, until now. Yahoo just released an exclusive trailer that gives us a glimpse at Julianne Moore and why she's been placed as an Oscar frontrunner. Check it out below:
The trailer shows Moore as a middle-aged, intelligent professor at the brink of a devastating realization. In the trailer, the character hesitantly admits to her husband, played by Alec Baldwin, "I've got something wrong with me". The professor soon finds herself forgetting simple things, and eventually completely losing any sense of self. She tells her children she has been diagnosed with early onset Alzheimer's disease, and you can see the fear in Moore's eyes. The trailer is only a little over two minutes, and within it Moore was already able to bring me to tears.
This is an incredibly difficult performance to perfect. But, if anyone should be able to, it's Moore. The talented actress deserves to put her skills to use and finally come out with an Oscar for Best Actress. The character she plays in the film has to grasp so much. Fear, of losing herself, of forgetting her family, and of simply surviving in a world that is dissolving in front of her due to the disease. And on top of that, intense grief and the loss of a career that she worked so desperately to finally become a distinct voice in. Within the trailer, you can already feel all of those emotions. Moore's portrayal is incredibly touching.
It's about damn time that Moore, who has earned four nominations in the past, finally come out on top. And this role could definitely do it for her. Going from the healthy linguistics professor to the crumbling effects of Alzheimer's will force Moore to explore a wide array of heart-wrenching emotions that are worthy of an Oscar. And even though the heavy subject matter could result in an over-dramatized performance, the trailer shows Moore's realistic decline that anyone who has known an Alzheimer's victim has surely seen first hand. The struggle and the confusion, the fear in their eyes, especially in the beginning, when they are aware of the disease that they have, and can't do anything to prevent it. Moore brings life to that struggle.
The actress is known for playing troubled women who have lost a sense of self. This role takes that idea to an entirely new level, where the loss of self is uncontrollable, and unpreventable, and I can imagine that it brings entirely new layers to Moore's performance. Still Alice is scheduled to open nationwide on January 16, 2015.
Your Daily Blend of Entertainment News