Stone Cold Steve Austin: Movie Star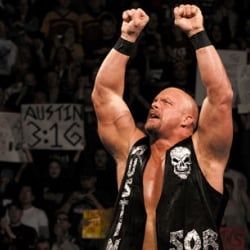 With John Cena's starring vehicle 12 Rounds opening today, it's clear that pro wrestlers continue to make for good movie stars, whether it's of the family-friendly variety (The Rock) or the ass-kicking one. Stone Cold Steve Austin, who also starred in 2007's The Condemned, will be sticking with the latter kind of role, preparing to star in the action thriller The Stranger.
Austin also has another movie in the pipeline, according to THR, the fight movie Damage. Not sure how this one will be different from a fight film, except maybe Austin will be called upon to do a fraction less beating people up and a fraction more acting. But we all know if he doesn't snap some bad guy's next with his feet, we'll all be disappointed we paid for a ticket. Give us the goods, Austin!
Staff Writer at CinemaBlend
Your Daily Blend of Entertainment News
Thank you for signing up to CinemaBlend. You will receive a verification email shortly.
There was a problem. Please refresh the page and try again.