Story Of The NFL's Oldest Cheerleader May Be The Actual Next Blind Side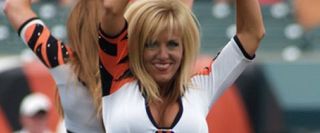 Any producer with half a brain is eager to compare their potential project to The Blind Side, the movie that grossed $300 million worldwide when nobody expected anything out of it. But New Line may have the actual next Blind Side on their hands-- an inspirational sports movie with a role tailor made for Sandra Bullock. As THR reports, they've got producers RIchard and Lauren Shuler Donner working on the life story of Laura Vikmanis, who at 42 is the oldest cheerleader in the NFL.
The movie will be based on both on Vikmanis's life rights and a pitch from writers Emily Cook and Kathy Greenberg, who worked on Gnomeo and Juliet but I'll choose not to hold that against them. Vikmanis didn't exactly age up in the cheerleader ranks-- at 39, when her husband left her for a younger woman, she spent a year training in order to try out for the Cincinnati Bengals cheerleading squad (called, seriously, the Ben-Gals). While it sounds like a story that would start as a memoir then go to the movies, it happened the opposite way this time; as Cook and Greenberg put together a script, the book rights are being pitched. Here's how Cook describes the story:
The only real challenge here is making sure Bullock is on board-- if she doesn't take the role as a spunky and ridiculously fit middle-aged woman, everyone will wonder why she didn't. She's in New York right now shooting Extrremely Loud and Incredibly Close, but I guarantee you there are people knocking on her door right now trying to talk her into a cheerleading skirt.
Your Daily Blend of Entertainment News
Staff Writer at CinemaBlend