Suffragette Trailer Has Meryl Streep, Carey Mulligan Rocking The Vote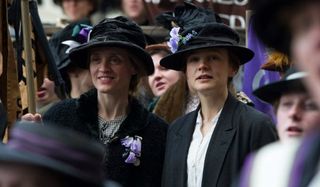 Meryl Streep isn't the star of her latest film, Suffragette, but she'll probably still get an Oscar or Golden Globe nomination out of it. The trailer for the film has debuted online, and everything about it suggests it was tailormade for the Academy voters. Check out the trailer below.
Suffragette follows the fight for women's rights in early 20th-century Britain through the eyes of a working mother, played by Carey Mulligan (The Great Gatsby). She worked part-time at the laundrymat since she was 7 and became a full-time employee by 12, on top of which she has a husband (Spectre's Ben Whishaw) and a son. Soon, though, she becomes a soldier for the feminist movement, as she's secretly recruited to become a suffragette.
Streep plays Mrs. Panhurst, their leader, who's had to watch women be brutalized by the police and sexualized by men through their peaceful protests. No more. The new tactic means fighting back with more aggressive protest strategies, risking their jobs, their children and their lives. In addition to Streep, Mulligan and Whishaw, the Suffragette trailer features the supporting cast of Helena Bonham Carter, Brendan Gleeson, Anne-Marie Duff, Romola Garai and Natalie Press. Abi Morgan, who wrote the screenplay for one of Streep's Oscar wins, The Iron Lady, penned the Suffragette script, while second-time feature film director Sarah Gavron helmed the film.
This film looks like Oscar bait at its finest. First, it has the Academy's golden lady, Streep, who's been nominated 19 times and won three statuettes over the course of her vast career. Then there are the boxes the older voters are always looking to check off: it's a historical film, and it tells of underdogs overcoming immense adversity, specifically regarding the fight for gender equality. Suffragette doesn't open in theaters until October 23 with a limited release -- it will expand nation wide by Thanksgiving -- but so far it seems like an early awards contender for the reasons mentioned above. This isn't to discredit the performances from Mulligan, Streep and the rest of the cast. By the looks of the trailer, it seems they'll turn out a moving portrait of the time.
Still, there's a lot of competition already emerging for Oscar and Globes spots. So far we've seen previews and early reviews for The End of the Tour with Jason Segel playing the late author David Foster Wallace, The Danish Girl with Oscar-winner Eddie Redmayne playing trans pioneer Lili Elbe, Jake Gyllenhaal as a champion boxer in Southpaw, and Leonardo DiCaprio as a man out for revenge in The Revenant. These guys are on our radar for Best Actor, but Suffragette could be an early contender for the Best Actress race. We haven't seen the film yet, but keep this one in the back of your mind.
Your Daily Blend of Entertainment News