Sundance Jury Prize Winner Winter's Bone Goes To Roadside Attractions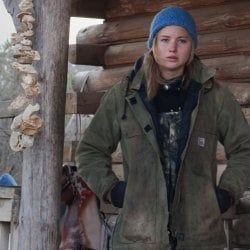 Apologies for bringing this to you a little late. Given how many Sundance deals were finalized in the last days of the festival, and how that was the time I had set aside for dancing up a storm and then flying back home exhausted, I missed some of the distribution deals that emerged. By the time Winter's Bone won the Grand Jury Prize for U.S. Dramatic Features, though, I was definitely aware that it had been picked up for North American release-- I just opted not to share that information with you guys. Yeah, I know, I'm sorry.
Anyway, the news hit last Saturday that Roadside Attractions had picked up Debra Granik's film, which depicts a 17-year-old girl traveling across the impoverished Ozarks to track down her absent father. The movie was praised for the lead performance by teenager Jennifer Lawrence, as well as its unflinching depiction of a cruel and poor corner of the country. You know, it's your typical heartwarming Sundance fare.
Below is the press release from Roadside Attractions, in which they announce their plans to release the film theatrically this summer. It sounds like a release pattern similar to the one for Frozen River, another bleak Sundance hit that did well enough to earn its star Melissa Leo a Best Actress nomination. Sounds like Roadside Attractions is hoping that history will repeat itself.
Your Daily Blend of Entertainment News
Staff Writer at CinemaBlend