Sundance: Star Gazing At The Festival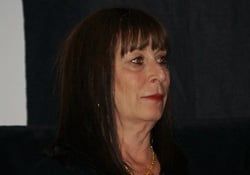 I could pretend to be nonchalant about my experiences over the five days I spent at the Sundance Film Festival. I could act as though seeing celebrities, viewing brand new movies and finding myself temporarily immersed in the buzzing energy of the film industry was no big deal. Ain't no thing. Do it all the time. That may be the case for some of the industry people, actors, producers, writers and even some of the press but I'd be lying if I tried to pass the whole experience off as just another few days at work.
It's probably considered socially uncool to brag about seeing celebrities but pretending to be cool about all of this would be a waste of time and words. I know that a ton of celebrities attend the Sundance Film Festival but to be perfectly honest, I really didn't expect to see many of them. I figured I'd hear people talking about who was spotted in town or at a screening but I never really got my hopes up that I'd see any of them, let alone talk to them. That was not the case at all. In fact, with the exception of the day we left Park City, I saw at least one famous actor each day we were there.
Brace yourselves for some name dropping!
Day 1
It all started at the airport. Since Josh and Leanne's flight was delayed, Steve and I spent a few hours sitting around the Salt Lake City airport. We witnessed hundreds of travelers arriving and departing, many carrying those huge ski-bags. I've never been skiing before but I've decided that if it means having to carry around one of those giant bags while traveling, forget it. Anyway, at one point I was sure I saw Eliza Dushku walk past me. She was talking on her cell and it was her voice that caught my attention. Steve said it wasn't her but he seemed less sure of that when she walked past us again later on.
Day 2
Leanne and I sae out to attend the Sundance Festival Jury press conference. Check out all of our pictures from it here. While we were disappointed that Quentin Tarantino wasn't there, the presence of of Marcia Gay Harden and Sandra Oh made up for it. Both are gorgeous and extremely well spoken. We were about to leave when we found out that there was a press conference for the film, In Bruges starting in a few minutes. We quickly realized that we needed to get a schedule of the press conferences so we wouldn't have to keep relying on luck but that would have to wait until after we sat and drooled over Colin Farrell while he talked about the film and said "fuck" a lot. As you can see from our photos here, Farrell is as grubby and unshaven as ever but somehow that doesn't stop him from being hot. Maybe it's the accent. Brendan Gleason was also there and when I wasn't busy watching Farrell run his fingers through his hair over and over, I was resisting the urge to ask Gleason where his mad eye was. He probably wouldn't have appreciated that. As luck would have it, we did end up getting to see Tarantino but that wasn't until later when we went to the press headquarters. We didn't get a picture though because he was on his way out and he walks about as fast as he talks.
Day 3
On Saturday, Leanne and I were scheduled to attend a press conference for the cast of Bottle Shock. Check out all of our press conference photos right here. Since Josh had seen the movie the night before, we knew already that there were quite a few big names in it but we weren't sure who was actually going to show up. When we got into the press room we were pleased to see Bill Pullman, Alan Rickman, Chris Pine, Eliza Dushku, Freddie Rodriguez and Rachael Taylor. The cast was very animated during the press conference and they all seemed to get along pretty well. Afterwards, Leanne and I hung back to see if we could chat with some of them and get some pictures. Since we knew Chris Pine (whom I could barely look directly at because of how gorgeous he is) is set to star in the new Star Trek film, we wanted to make sure we got a picture of him. He was busy chatting with another reporter so I went off to take some pictures of Alan Rickman and Freddie Rodriguez. Both were quiet but politely consented to being photographed. I didn't trust myself to say anything to Rickman, for fear of blurting out a quote from Die Hard or some lame Harry Potter reference so I just got the pictures, said I was a fan to both of them and walked back to where Pine was sitting.
Bill Pullman was standing nearby. I need to explain something somewhat personal about Pullman. No, it's not the fact that he's an actor who's starred in some of my favorite films (Spaceballs, Sleepless in Seattle and one of my most secret guilty pleasures: Newsies). Sure, loving his films would've been the logical thing to mention when I opened my mouth to speak to him but that's not what I did. Instead, I looked up at him and said, "My husband's from your home town." This fact is something that Steve has brought up many times. Whenever Pullman's name comes up in conversation or when one of his movies' is referenced, he's sure to mention his loose connection with the actor. Given the fact that the upstate New York town is pretty small, I can understand why it's worth mentioning. So I guess when I saw the opportunity to speak to Pullman, I knew I'd kick myself later if I didn't say anything. Fortunately for me, Pullman was extremely gracious and seemed both pleased and surprised by the connection. From his reaction, it seems likely that meeting people from his hometown (or someone married to someone from there) is a pretty rare occurrence. We had a nice chat about that and based on this one conversation, I'm pretty sure Pullman is as nice a guy in real life as most of his characters are.
Finally, we were able to get some time, a few pictures, and even an autograph from the future Captain Kirk Chris Pine. He was very nice and seems like a pretty modest guy. On our way out we saw that Eliza Dushku was still around and talking to someone. We managed to catch her before she left and she was kind enough to give us a few updates on her upcoming TV project with Joss Whedon, Dollhouse.
While we were mingling with the Bottle Shock cast, Steve was busy having a casual interview with Mary Lynn Rajskub and Emily Blunt.
Day 4
On Sunday, we had some down time and didn't anticipate seeing any big names since we didn't have any press conferences scheduled. Fate stepped in though and put me and Leanne in the path of David Denman, who played Roy in The Office. Unfortunately, I spotted him as he walked passed me on the sidewalk on the crowded Main Street and didn't have a chance to get a picture of him.
Then later on the bus we met Bart Johnson, who plays father and coach, Jack Bolton in the hugely popular High School Musical films. Johnson chatted with us a bit about the third installment in the Disney films and afterwards, we helped him find his cell phone, which he misplaced at some point during the bus ride. What I didn't know about Johnson until later on when I looked him up was the fact that he's married to Robyn Lively. You might remember her from the third Karate Kid movie and the classically corny Teen Witch. I'm not sure what I would've done with this knowledge had I had it when I was talking to Johnson so maybe it's for the best that I didn't have it. Quoting either of those movies probably wouldn't have lead to anything good.
Day 5
On Monday, I headed off by myself to check out Hamlet 2. The film was hilarious and afterwards, most of the cast was there to talk about the movie. This included Steve Coogan and Elizabeth Shue. As I didn't have Leanne with me to take pictures, I had to settle on using my own digital camera, so please excuse the crappiness of the two photos (included in the gallery below) I managed to get of Shue and Coogan. I would've hung back to see if I could talk to either of them but there was not time because I had to get to another screening.
After seeing Hamlet 2, I met up with Leanne and we went to the premiere of Choke. Check out all our pictures from the premiere right here. Before the movie started, Leanne decided to make a quick trip to the bathroom. While she was waiting on line, Anjelica Huston joined the queue. This is one of the most surreal things about Sundance, at least for people like me and Leanne. How often do you get to stand on line in the ladies room with a famous actor? Huston, who Leanne only noticed when she heard her making fun of the chatty trophy wives in front of them under her breath, didn't seem to mind taking a picture with Leanne before both parted ways to take care of business and get back to the theater before the movie started.
After watching Choke, which was great by the way, we stuck around to see who we could meet. Most of the cast was busy chatting with people but we did manage to catch Joel Grey, who was talking with William H. Macy. Both were friendly and I even had the chance to tell Grey how great he was when I saw him in Wicked on broadway years ago. I held back on geeking out over his appearances in Buffy and Alias. He made a joke about the difference between his role in Wicked (he played The Wizard) and his role in Choke (he plays a sex addict), which made me laugh. After having a chuckle with this Broadway legend, we turned our attention to William H. Macy. I tried to think of something clever to say. Should I quote him from Magnolia? ("I used to be smart but now I'm just stupid!") or Boogie Nights? ("That's my wife!"). No. Best to just take a few pictures, thank him and move along.
And that about covers it. As I've spent my entire life loving movies, seeing most of these people in person was extremely surreal and pretty exhilarating. As I mentioned at the beginning of this write-up, I could feign coolness here, drop some names and pretend like this is all normal for me but who would I be kidding? I'm a movie fan and thus, a fan of many actors. Getting to see some of my favorite performers and even having the opportunity to talk to a few of them was amazing and truly added to the greatness of my first experience at Sundance.
For more celebrity pictures from our trip to Sundance, CLICK HERE.
Your Daily Blend of Entertainment News
Assistant Managing Editor
Kelly joined CinemaBlend as a freelance TV news writer in 2006 and went on to serve as the site's TV Editor before moving over to other roles on the site. At present, she's an Assistant Managing Editor who spends much of her time brainstorming and editing feature content on the site.