Sylvester Stallone Confirms Mel Gibson's Villain Role In Expendables 3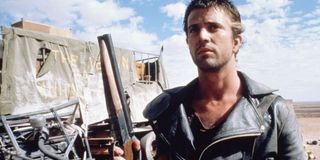 Sylvester Stallone has made a place for old action stars to reclaim their fame with his Expendables franchise. And with each new entry, Sly has attempted to make his cast bigger, brawnier, and better. But his latest addition could raise some eyebrows, as Stallone, Expendables 3's co-writer and star, announced on Twitter that sullied celeb Mel Gibson will be on board. Check out the none-too-subtle tweet below:
Of course Mad Max is among Gibson's most iconic roles, and Barney Ross is the name Stallone bestowed on his Expendables character. The inclusion of "vs" seems to confirm early reports Gibson was being considered for the villain role in Expendables 3. Considering Gibson's string of scandals that have steadily killed his box office appeal, a villain role might be the safest way to fold him into this franchise. Still, even as a baddie, could Gibson prove a turnoff to audiences?
If we put aside Gibson's drunken and wildly offensive tirades, his casting in Expendables 3 is a no-brainer. The movie series that includes such '80s action icons as Stallone, Arnold Schwarzenegger, Bruce Willis, and Dolph Lundgren should clearly include the man who fronted the Mad Max movies and played unhinged officer Martin Riggs in Lethal Weapon. But of course the Gibson of today has a very different persona from the one of the '80s. In 1996, he went from fun-loving action icon to two-time Oscar winner, scoring Best Director and Best Picture for the historical epic Braveheart. Years later, his filmmaking took a bolder turn with The Passion of the Christ, a polarizing depiction of the story of Jesus that took in a whopping $611 million despite being in Aramaic, Latin and Hebrew.
Then, as the 2000s progressed, things fell apart in the actor's personal life, mounting to a notoriously rage-filled and threatening phone call to his ex-girlfriend, and it had a pretty direct impact on his career. He was memorably fired from The Hangover 2, reportedly because star Zach Galifianakis wanted nothing to do with him. In 2011, despite positive reviews for his performance, the Jodi Foster-direct drama The Beaver flopped spectacularly, earning only $970,816 domestically. Following that was 2012's Get the Gringo, which Gibson bankrolled himself. It ultimately skipped theaters, going straight to VOD. People were clearly not ready to forgive or forget. But maybe if he embraces his infamy?
Later this year, Gibson will appear in Machete as Danny Trejo's nemesis, a deranged and affluent arms dealer. Then, apparently, he'll follow that sure to be bonkers performance with a baddie part in Expendables 3. Will this be enough to rehab his persona? Or will audiences continue to cringe at the idea of seeing Gibson onscreen? Sound off below:
This poll is no longer available.
Your Daily Blend of Entertainment News
Staff writer at CinemaBlend.
Your Daily Blend of Entertainment News
Thank you for signing up to CinemaBlend. You will receive a verification email shortly.
There was a problem. Please refresh the page and try again.