Sylvester Stallone Explains Why The Expendables 3 Will Be PG-13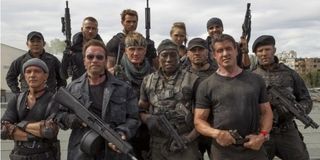 During production on The Expendables, Sylvester Stallone famously claimed the movie would be PG-13. It wasn't. When The Expendables 2 shot, star Chuck Norris and later Stallone, himself, implied that it would be PG-13 to satisfy younger fans. It wasn't. And now, which rating do you think Stallone is claiming The Expendables 3 will go out with?
Via Deadline, Sly and the massive The Expendables 3 cast descended upon Cannes with a raucous attitude, revving up onto the famous red carpet in a tank. It was there where Stallone dropped this bomb on the fans.
If this is real, the decision is probably based on sheer numbers. The Expendables 2 was more successful globally than the first one. But domestically, the gross dropped from $103 million to $85 million, a large drop for a franchise of movies that just aren't that great. The novelty of the first film lied in uniting all these action stars together. Now that it's happened a few times, there isn't really much novelty in it, so the worry is that an R-rated third film could drop to $50-$60 million domestic, and basically kill this franchise dead.
That being said, there is NO movie on this planet that should be more rated-R than The Expendables 3. Sly doesn't "owe" anything to the younger generation at all – actually, he already did a voice for Kevin James' The Zookeeper, so, you're welcome, new generation. If any kids under 17 are really jonesing to see Wesley Snipes and Mel Gibson back on the screen (unlikely!), chances are their folks are, too. And what's more masculine than being a 15 year old and going to see an R-rated action movie with Dad? Maybe riding a rocket into a Hooters with a cigar in your mouth, holding two guns with a helper monkey on your shoulder. But only that!
The Expendables 3 might be injecting new blood into the franchise with the likes of Ronda Rousey and Tito Ortiz, but the rest of the cast is comprised of dudes who have been making R-rated movies for a long time. If the old-timers have a younger fanbase, made up specifically of guys who were too small to be seeing Commando or Passenger 57, then chances are they are old enough to get into an R-rated movie by now. You widen the gap to PG-13, you might get some teenagers who will sit in front of anything that plays on a screen. Keep it R, though, and you're making a guarantee that it isn't a kiddie flick, and endorsing it for the real fans who genuinely loved these actors for years and wouldn't bother with seeing them in some watered-down piece of fluff. If it's a numbers game, those real fans easily outnumber the kiddies.
PG-13 is for when you're surrendering to the Man, Sly. Don't do it.
Your Daily Blend of Entertainment News