TIFF Interview: Andrew Garfield Talks Fate, Love, Loss In Never Let Me Go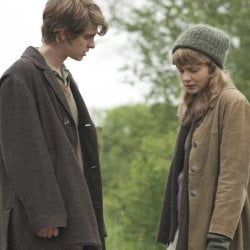 I was a little surprised that the folks behind Never Let Me Go were even willing to let Andrew Garfield sit in a room full of reporters unaccompanied. The actor has gone very, very quickly from a promising up-and-comer to The Next Spider-Man, which means the questions lobbed at him were likely to be silly, emphasizing superhero villains and franchises rather than, well, the movie he was there to promote. Add in the fact that Garfield had to eat his lunch while talking to us and it's a wonder he didn't just take one look and run the other direction.
I already brought you all the Spider-Man-centric stuff from the interview, so here's the rest of it, which covers his Never Let Me Go role as the emotionally fraught Tommy, his hopes for his career doing both small films and giant superhero tentpoles, what he learned from Heath Ledger on The Imaginarium of Dr. Parnassus, and a little about The Social Network, which comes to theaters in October. Garfield is an incredibly magnanimous and gracious person to interview, and as you can see in his length discussion about the issues of fate and life brought up by Never Let Me Go, a pretty smart one as well.
Never Let Me Go opens in limited release this week, and stars Carey Mulligan and Keira Knightley alongside Garfield.
By taking on larger roles like in Spider-Man, do you hope to bring more attention to smaller films like Never Let Me Go.
That's not my job. I think if I got caught up in that I would just stress myself out. If I was so calculated, I think it would just detract from the good stuff. I'm obviously aware of how difficult it is to-- actors can't get work. I'm an actor. I'm happy to be working, that's all. It's difficult to get work. There are people much more talented than I am, that I know, who aren't working. Actors are at the mercy of other people, sometimes foolish people. It's death out there, man. I'm just happy to work. You can only do so many Shakespeare speeches on your own in your room before starting to feel like you want to give up.
Did you spend much time with the boy who played the younger version of you?
We hung out a bunch and chatted and talked about the role and just got to know each other. We'd muck around, we'd talk about girls, kissing girls and stuff. He was so good. He was so open, excited, enthusiastic, talented and raw and right there in the moment. And we all did that with our counterparts. It was set up that way by Mark and the production team. We got weeks of rehearsal together, and all just bonded and became very intimate with each other, discussed the themes of the bookI and themes of the movie. Every came at it with the same intention. Everyone wanted to tell Kazuo's story in the most pure form, without any ego or imposition. Just tell the story in a really lovely way, in a really intense and pure way.
What happens to Tommy between the time that he has his original outburst at Hailsham and the outburst he has later on as an adult? Something happens to him, and he becomes very acquiescent and peaceful in his life.
I think he does what's necessary. He does what we all have to do when we're in a situation. We deal with the situation. We deal with what it is to be alive. You become a man, and you suppress things, and you get burned. You get burned, and then you have to heal your scar to cover it up, bandage it up, and then you have to avoid that pain again. I remember the first time I broke up with someone. It was the greatest pain ever. It made me never want to love again. We all know that feeling. So you do everything you can to distract yourself.
I feel that's what Tommy is doing. He has to somehow hold on through this free-floating anxiety, this knowledge that there's something not quite right in this life. It's so relatable, we all do it. There are these burning, upsetting tingling in all of us. These dissatisfactions that we're not being looked after, these worries that there's nobody above, worries that there is no purpose. If you are constantly in that thought process and consciousness, we would all be constantly screaming. Because life is fucking unfair, and life is impossible sometimes. Once you own up to that and see that it's very difficult not to scream and shout. Because we're given this consciousness. We're not just animals, unfortunately. We have a consciousness to supposedly elevate us, but it does more harm than good sometimes.
The more I hear you talk about having no interest in celebrity and whatnot, your attitude seems very similar to Heath Ledger. Was your attitude influenced by him when you worked together on Dr. Parnassus, or did you have that and that's why you clicked as actors?
I don't think anyone can be defined by an influence from someone else. I admired Heath, I continue to admire Heath, incredibly. He was truly exciting to be around. He's just incredible, as an actor, as a human being. Maybe there's something in that. Maybe I saw his happiness and his life, and he was just a very creative person. I got to work with such incredible people. And on that film there was Terry as well. He lives for it. And with this, being with Mulligan and Knightley and Mark and Alex and Ishiguro, it was just a gift. Being with Jesse Eisenberg for The Social Network, that boy is constantly creating something, whether he's writing a play or musical or a series of incredible jokes, he's just a genius.
What's your perspective on social media given your role in The Social Network?
Luckily my role in The Social Network doesn't know much about that. He's an economics major. So my research wasn't Internet based, it wasn't social media based. He's actually naive to it. He's being exposed to it gradually as the film goes on, so I didn't have to do much work in terms of that. I had to do work elsewhere. They are the wizards of our generation, they are the alchemists. I just got given an iPad as a gift for my birthday, and it's unbelievable. It's truly magic. Zuckerberg revolutionized the way we communicate globally.
Do you have a Facebook account?
No, I don't have one. But I've of course been on. It is so simple and genius, because everyone wants to be on their own [magazine] cover, and that's what it's giving people. It's kind of an extension of what our playground society is. I admire it greatly. Unfortunately we could all be very rich if we had been on that bandwagon. They are the great people who are defining our time. Surrender to it, it's fucking great.
More Cinema Blend coverage from the 2010 Toronto International Film Festival right here.
Your Daily Blend of Entertainment News
Staff Writer at CinemaBlend