Take A Look At Captain America: The Winter Soldier's Blu-ray Cover Art And Extras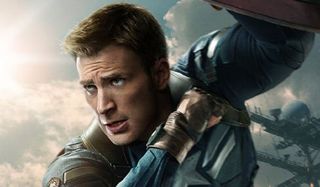 Marvel's Captain America: The Winter Soldier only hit theaters last month, so I don't think anyone was expecting a home release announcement anytime soon. Yet, in a surprise move the company dropped the box art and some of the extras for the Blu-ray 3D, Blu-ray, DVD and Digital release of The Winter Soldier. Unfortunately, it's only a tease; Captain America: The Winter Soldier won't actually be hitting any home entertainment platforms until August. The film will hit Digital platforms on August 19, followed by the official Blu-ray release on September 9. That doesn't mean we can't marvel over what we'll get with the sets.
I know many Marvel fans don't own a 3D television, but the cover art for the Captain America: The Winter Soldier set is clearly the superior cover art. It features plenty of background action and a nice shot of Chris Evans with his jaw clenched as if Captain America is about to accomplish something that will be intensely important for humanity. The other cover art, for the Blu-ray set features Black Widow swishing her hair and Nick Fury staring intently, but it's a little light on action. It's not that the cover art will make or break a set, but if I personally wanted to stare at something on my Blu-ray shelf, it would be the top one.
Disney's been really excited about promoting its newish Digital platform, Disney Movies Anywhere, for the last several months and it makes sense that the company would put out the Digital release early to promote it. I'm a big fan of ease of use, and fans who have totally switched over to Digital probably have a lot more shelf space in their homes. However, extras do vary from platform to platform, and while bonus features as a whole are less of a novelty than they were a few years ago, Marvel's sets are usually really exciting, featuring one-shot shorts and plenty of behind-the-scenes footage. Unfortunately, the super early press release means we don't know exactly what will come with the latest set. Marvel is promising Captain America: The Winter Soldier will come with some of the standard stuff like deleted scenes, bloopers and audio commentary. Additionally, several "Making of" featurettes will come with the set and more. There's no elaboration on who will appear in the audio commentary or what the behind-the-scenes extras will look like, but we'll let you know as soon as new information surfaces.
The Winter Soldier was a box office and critical success. As the second standalone Captain America film, Anthony and Joe Russo's film is set in the time after the events in The Avengers and follows Steve Rogers as he attempts to adjust to life in present day Washington D.C. However, his work at S.H.I.E.L.D. embroils him in a plot that involves a secret assassin known as the Winter Soldier and a plot within S.H.I.E.L.D. that could change the world forever—and has certainly changed ABC's Agents of S.H.I.E.L.D. The film grossed over $700 million worldwide (and spawned a sequel), and there's no reason to believe that it won't also crush on Blu-ray and Digital (opens in new tab).
Reality TV fan with a pinch of Disney fairy dust thrown in. Theme park junkie. If you've created a rom-com I've probably watched it.
Your Daily Blend of Entertainment News
Thank you for signing up to CinemaBlend. You will receive a verification email shortly.
There was a problem. Please refresh the page and try again.