5 Agents Of S.H.I.E.L.D. Game Changers For The Marvel Cinematic Universe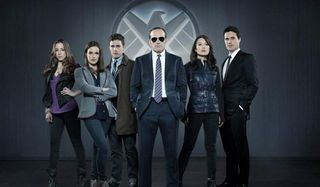 After spending years working to take over the world of Hollywood blockbusters, Marvel Studios has now truly made themselves a part of television history as well. Last night we watched the first season of Agents of S.H.I.E.L.D. come to an end with its first finale, both closing the doors on some months-long mysteries and opening other cases even wider. But the events that took place on the show have ramifications that go far beyond the central characters, as they are just a small part of a much larger Marvel Cinematic Universe.
Since Agents of S.H.I.E.L.D. debuted last fall, it has been working to add whole new layers to the comic book world, and now that the first season has ended it's easy to see the most significant elements really stand out. So how exactly did the series affect the larger Marvel Cinematic Universe? Read on to find out!
SPOILER ALERT!: The rest of this article contains massive spoilers from the first season of Agents of S.H.I.E.L.D., so read on at your own risk!
Tony Stark Has Privatized Global Security
It's almost as though Tony Stark predicted the future of the Marvel Cinematic Universe all the way back in Iron Man 2. Speaking before the Senate Armed Services Committee and explaining the real power of the armor he created – describing himself as a "nuclear deterrent" – the billionaire/playboy/philanthropist boldly announced that he had successfully privatized world peace. Of course, this wasn't true at the time, as that responsibility actually belonged to the folks over at S.H.I.E.L.D. But not anymore.
This little bit of information was spilled in an off-hand line by Maria Hill (Cobie Smulders) in the Agents of S.H.I.E.L.D. episode "Nothing Personal," and while it may have seemed insignificant, it may actually be a big deal: Tony Stark has now truly privatized global security. With S.H.I.E.L.D. destroyed, somebody had to pick up the slack and find a way to protect the world from unknown threats, and Stark Industries stepped up to that challenge. So how will this mission be accomplished? Perhaps through the creation of an android army… which is what ultimately leads to the robotic terror known as Ultron.
The Fridge Is Open, Villains Are Everywhere
One thing that has always bugged me about superhero movies is the perpetual need to deliver origin stories for all supervillains. In the comics, we see our favorite costumed vigilantes run into random superpowered crime all the time on the street, and it not only keeps them busy for plotlines, but also adds another level of fantasy to the world as a whole (knowing that bizarre events and weird science is happening everywhere). Live-action films have long treated all superpowered incidents as rare occurrences, but thanks to Agents of S.H.I.E.L.D. that's no longer really true in the Marvel Cinematic Universe.
One of the most significant events to occur in the final few episodes of Agents of S.H.I.E.L.D.'s first season was Agent Ward (Brett Dalton) and Agent Garrett (Bill Paxton) raiding The Fridge, a top secret detainment and storage facility. Doing this not only gave HYDRA access to some very powerful weaponry, but also released a few really bad dudes out into the world. With the exception of a few interesting names (Man-Thing, Griffin, Blackout, etc.), we actually don't know exactly who was in The Fridge when it was opened up, but we do fully expect to see them pop up more in future Marvel Studios works.
S.H.I.E.L.D. Is Getting A Rebuild And Has A New Director
Those of you who haven't seen Agents of S.H.I.E.L.D. but have seen Captain America: The Winter Soldier are still aware of this fact: S.H.I.E.L.D. has been completely obliterated in the Marvel Cinematic Universe. HYDRA was able to infiltrate every level of the clandestine organization, and they did their part to tear the whole thing down. While Stark Industries seems to be picking up the slack for now, eventually S.H.I.E.L.D. will rebuild itself – and it will be doing so under the supervision of a brand new director.
As was revealed in one the last scenes of the Agents of S.H.I.E.L.D. season finale, Agent Coulson (Clark Gregg) has been promoted to become the brand new Director of S.H.I.E.L.D. Of course, as things stand that really doesn't mean much, as the organization is in ruin, but Coulson has proven a real dedication and commitment to his work since he first appeared in Iron Man, and it's hard to imagine the task of rebuilding being in better hands. Now you may be asking, "What about that guy that he replaced?" Well…
Nick Fury Is Now Gone Gone
Following the events of Captain America: The Winter Soldier, we expected Nick Fury (Samuel L. Jackson) to disappear completely. After all, he faked his death to get away from any questioning about the downfall of S.H.I.E.L.D. and then proceeded to burn all the important things in his life – including his eye patch. Apparently, he couldn't just leave Agent Coulson hanging, however, and in last night's Agents of S.H.I.E.L.D. season finale Fury made a special appearance helping his friend to take down the Clairvoyant and Cybertek. But as we learned from the final moments of the show, he is now truly heading off the grid.
We really got our first hint at this when Samuel L. Jackson said back in March that Nick Fury would have a very tiny role in Joss Whedon's The Avengers: Age of Ultron, but Agents of S.H.I.E.L.D. really put a nail it that coffin: it's going to be a little while until we see the former S.H.I.E.L.D. director back in a significant role. The question floating around my head now isn't "how long will he be gone?" but rather, "what will it take to bring him back?"
Death Isn't Necessarily The End
Going into the first season of Agents of S.H.I.E.L.D. we were already fully aware of what would end up being one of the show's biggest mysteries: that fate of Agent Coulson after he was stabbed through the heart by Loki (Tom Hiddleston) in The Avengers. While we were initially told that the heroic agent was only dead for a few seconds and then spent a few months recuperating in Tahiti, eventually we learned the awful truth: he was brought back from the dead thanks to an alien serum and some terrifying brain tinkering.
While this may seem like an easy solution to deal with any other dying character in the Marvel Cinematic Universe, the truth is not really that simple. As we first learned in the episode "The Magical Place," the process of bringing someone back to life is rather horrifying and painful, as Agent Coulson repeatedly asked to be killed during the procedure. In "Nothing Personal" we also learned that the process has some serious mental side effects, causing hypergraphia, aphasia, catatonia, or psychosis (which we saw starting to take effect in the post-credits scene of the finale). It's interesting to know it's out there in the Marvel Cinematic Universe, but whether it is worth the pain and risk will remain a question.
Your Daily Blend of Entertainment News
Assistant Managing Editor
NJ native who calls LA home and lives in a Dreamatorium. A decade-plus CinemaBlend veteran who is endlessly enthusiastic about the career he's dreamt of since seventh grade.