Taylor Lautner Does A Men In Prison Movie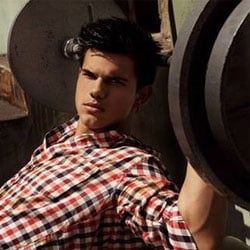 Taylor Lautner is doing another movie adapted from a young adult novel. No it won't involve werewolves. Instead it's a hot dudes in prison movie, for teens! Prisoners are sure to become the new vampires after Lautner's done flexing his muscles in this thing. At some point, we're going to have to officially classify this guy's career as girl-porn.
According to Deadline the novel being adapted is Incarceron, in which a 17-year-old kid named Finn lives in Incarceron, a brutal futuristic prison society. Lautner will of course play Finn, who is determined to escape even though only one other person has ever done so. Eventually he teams up with Claudia, the warden's daughter, who wants out as much as he does.
One of the really interesting things about author Catherine Fisher's stories is that though they're set in a distant future, the world her characters live in has been carefully constructed to resemble the 17th century. That should result in a pretty interesting, visual palatte for whoever ends up directing this thing to play around with. No word on who that will be yet, but Lautner will probably end up producing along with John Palermo.
Your Daily Blend of Entertainment News