Taylor Lautner To Star In Bourne-Style Thriller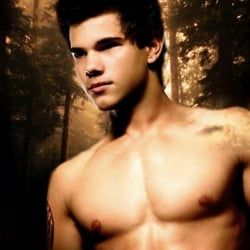 I have good news for all your Twihards and members of the wolfpack: today is Taylor Lautner's 18th birthday, meaning he is now legal crush material for fans of all ages. Go ahead, put that pinup poster on your wall! You've bided your time and you've earned it!
And to celebrate his birthday, Lautner is doing what he's been doing for a year now-- getting his name attached to any and every project that comes his way. Deadline Hollywood is reporting that he's attached to the spec script Abduction, a spy thriller with a pretty vague plot description: "Lautner plays a teen who has long felt disconnected from his parents, and figures out why. That unleashes a chain of violent events and enters Bourne territory."
Basically this news adds to what we already know-- Lautner is a big star, he's willing to do anything, and people will cast him in everything possible until he becomes overexposed, which at the rate he's going should be about a year from now. Better enjoy it while you can, kid, because otherwise you might have to go to college or something!
Your Daily Blend of Entertainment News
Staff Writer at CinemaBlend