Taylor Swift, Lea Michele, Scarlett Johansson Up For Same Les Miserables Role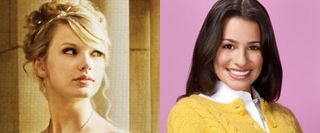 Anne Hathaway has already snagged one of the big female roles in Tom Hooper's splashy upcoming adaptation of Les Miserables, the huge Broadway musical based on Victor Hugo's novel. Hathaway is set to play Fantine, the doomed factory worker, opposite Hugh Jackman as the hero Jean Valjean, Russell Crowe as the determined Inspector Javert, and My Week With Marilyn's Eddie Redmayne as Marius, a young man fighting in the French Revolution.
Marius, like any good musical character, is also caught in a love triangle between Fantine's daughter Cosette and Eponine, another splashy role that's currently being cast. According to The New York Post, Taylor Swift, Lea Michele, Scarlett Johansson and Evan Rachel Wood are all in the running for the role, and with the film set for a December 7 release date next year, casting is likely to move fast so shooting can get started. Michele has the strongest Broadway chops of the bunch, having played Young Cosette herself as a child and belting out every musical ballad known to man week after week on Glee. But according to the Post, Swift brings her country music fan base, Wood her indie cred, and Johansson acting ability so… apparently the choice isn't as easy as it seems?
Les Miserables is such a massive story that it's impossible for one casting decision to make the film great or ruin it, so I'm trying not to get too worked up over the idea of Taylor Swift and her frilly-weak singing voice in any musical, period. With Hugh Jackman in the lead it can't be all bad, but… seriously, Taylor Swift? Just cast Lea Michele, fill out the rest of the cast with actual Broadway actors, and let this Les Miz hold its head high.
Staff Writer at CinemaBlend
Your Daily Blend of Entertainment News
Thank you for signing up to CinemaBlend. You will receive a verification email shortly.
There was a problem. Please refresh the page and try again.