Teenage Mutant Ninja Turtles Adds Johnny Knoxville As Leonardo, Tony Shalhoub As Splinter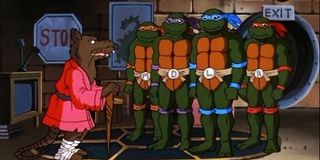 Voicework is one of those peculiar Hollywood concepts that seems perfectly simple, but often ends up extremely complicated. Some actors record themselves early in the process, allowing for animators to synch them up. And others join the process very late, usually as a quick nip and tuck to material that might not be clicking 100%. And with four month before release, Teenage Mutant Ninja Turtles is getting that minor tug and pull.
Deadline reports that Tony Shalhoub and Johnny Knoxville are joining the project in a voice capacity. Knoxville will be Leonardo, the leader of the group, and Shalhoub will be Splinter, the Turtles' aged rat-faced mentor. The production was previously thought to be opting for the original casting choices, with Pete Polszek standing in for Leo's motion-capture, and Danny Woodburn doing the same as the rat formerly known as Hamato Yoshii. Now it looks like they're getting a significant upgrade, suggesting Paramount is throwing some last minute dollars at the film. It wouldn't be a surprise to hear more names announced soon.
Knoxville's actually had a pretty respectable acting career for a guy who used to film himself getting kicking in the balls repeatedly. He's even got experience in the voice-acting world: he was a recurring character on King Of The Hill and Spongebob Squarepants. Shaloub's resume in that field is actually weirder and more diverse: he's done bit voices in Dinosaurs, Gargoyles, Men In Black: The Series and the Cars films. As for the casting, Knoxville seems more like a Raphael or Michaelangelo, but at the age of 43, you have to believe he could play the group's elder statesman. And as Splinter, well... it doesn't seem like they're sticking to the character's Japanese roots by casting Shalhoub, let's put it that way. Shaloub's a pro, and this is likely a Michael Bay suggestion, since Shalhoub was so slimy and memorable in Bay's Pain And Gain.
In other news, recently the production shelled out some extra cash to do some reshoots, according to Geeks Of Doom. But it doesn't seem like there's a huge creative reason behind them: in fact, Megan Fox just recently gave birth to a child, and was likely unavailable for certain shots during the pregnancy. There were rumors of a production delay, but you can't exactly plan for a pregnancy, so it's a sensible decision. No word on whether director Jonathan Liebesman was involved with the reshoots, which could be trouble, but is probably just a formality: losing Liebesman would mean ruining a chance to make one of the year's most delightful cinematic experiences.
Teenage Mutant Ninja Turtles hits theaters August 8th, likely sounding a whole lot different than you first imagined.
Your Daily Blend of Entertainment News
Thank you for signing up to CinemaBlend. You will receive a verification email shortly.
There was a problem. Please refresh the page and try again.