Teenage Mutant Ninja Turtles Reboot Casts Leonardo, Michelangelo And Donatello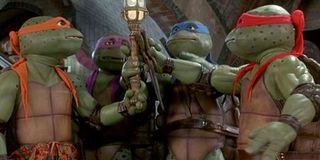 Last week casting for the first of the titular turtles of the Michael Bay-produced Ninja Turtles was announced along with news that this reboot of the popular Teenage Mutant Ninja Turtles franchise would employ motion capture techniques similar to those used in Avatar to create their CGI turtles. This week, we find out who will be filling the shells of the rest of the turtles.
Deadline reports that joining Blue Mountain State star Alan Ritchson in the mo-cap mania is Pete Ploszek, Jeremy Howard, and Noel Fisher. Ritchson will play Raphael; Ploszek, a relative newcomer with one-off roles on Parks and Recreation and Shamless to his credit, will play Leonardo; Howard, a "that guy" character actor who most recently appeared on an episode of Suburgatory, will play Donatello; and Twilight: Breaking Dawn--Part 2's Noel Fisher will play Michelangelo.
The source claims this could give all four a level of exposure they've never had before. However, that's sure to be tempered by having their faces swapped for CGI mutant—excuse me— alien turtles. Still, as this tent pole is being positioned for the start of a franchise, it is likely a solid opportunity for each of these actors, not to mention one that will posit them opposite Megan Fox. While most are speculating Fox will play April O'Neil in this Teenage Mutant Ninja Turtles reboot, the filmmakers are still firmly calling her role only as "female lead." So there may still be hope Fox won't be donning a yellow jumpsuit.
Casting for the turtles' metal-clad enemy Shredder is expected to be announced shortly.
Ninja Turtles is scheduled to open June 6, 2014.
Your Daily Blend of Entertainment News
Staff writer at CinemaBlend.
Your Daily Blend of Entertainment News
Thank you for signing up to CinemaBlend. You will receive a verification email shortly.
There was a problem. Please refresh the page and try again.