Michael Bay's Teenage Mutant Ninja Turtles Finds Its Raphael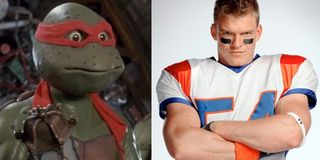 We're still reeling over news that Megan Fox will reteam with Michael Bay on his upcoming Teenage Mutant Ninja Turtles' remake, especially considering all the harsh words she had for him following the Transformers movies. But whether we (and legions of other TMNT fans) like it or not, casting for the reboot is moving forward. And it's turtle time.
Deadline reports that having secured Fox as their "female lead" (April O'Neil or no?), producer Bay and the movie's helmer Jonathan Liebesman (Wrath of the Titans) have snagged Alan Ritchson to play the sai-wielding Raphael. You might be wondering what that means in the context of a Teenage Mutant Ninja Turtles' movie. Will he be a full-bodied puppeteer? Will he lend his voice? It's sort of both.
Bay and Liebesman's version will be a hybrid of live-action and CGI with the turtles' performances being created from motion-capture technology similar to that used in the making of Avatar. So, for Ritchson, this means he'll be donning a motion-capture suit rather than a cumbersome mutant turtle costume.
To date, Ritchson has landed a couple of memorable television roles including Aquaman on Smallville and Thad Castle on the football-centered comedy series Blue Mountain State. Later this year, he'll hit theaters in his most noteworthy movie role so far, that of District One tribute Gloss in the hotly anticipated tent pole The Hunger Games: Catching Fire. The owner of a military-themed fitness program in West Hollywood, we assume Ritchson will be physically up to the task of playing Raphael.
With a newly pared down budget of $125 million, this Teenage Mutant Ninja Turtles is slated to open on May 16th, 2014.
Your Daily Blend of Entertainment News
Staff writer at CinemaBlend.