The Terminator Franchise Is On Hold, Because, Of Course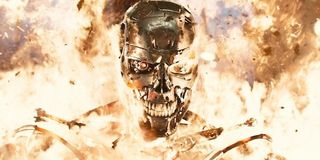 After this past summer saw Terminator: Genisys meet with a less-than-enthusiastic reception at the domestic box office, the future of the franchise has been in question. As the Arnold Schwarzenegger-starring reboot of the timeline performed well overseas, especially in China, it looked like more installments could be on the way, though now the opposite appears to be the case.
In an article in The Hollywood Reporter about film financiers and producers, talk turns to David Ellison, whose Skydance Productions was behind Genisys. While discussing the ambitious plans for the Terminator franchise, the article says:
Despite only taking in $89 million at the U.S. box office, Terminator: Genisys has managed to earn north of $440 million globally, which is good enough to place it in the top ten highest grossing movies of the year, at least up to this point. With those numbers, many thought that it meant we would be seeing more chapters in the killer-robots-from-the-future saga, but it looks like we won't, or at least not any time soon.
Even though it appears to have made good money, the report indicates that number is not indicative of the profit margin. Terminator: Genisys already had a reported budget of somewhere in the vicinity of $155 million, which isn't chump change, and when you factor in a massive global marketing campaign, at least according to this report, Skydance and Paramount Pictures didn't wind up making any money.
Before Genisys even hit theaters, there was talk that it was going to be the first in a new trilogy, and the film certainly sets up the possibility of more to follow. The plan was originally for two films to shoot back-to-back for release in 2017 and 2018, respectively. A big part of this timeline was because the rights to the Terminator franchise revert back to originator James Cameron in 2019, and Paramount was going to try to sneak these in under the wire. But it looks like that dream is dead.
We may very well see more Terminator sequels in the future, but at least not in the next few years. Genisys' haul shows that there is still a global market for the franchise, but apparently not enough to sustain this level of big budget production.
This is similar to the situation Pacific Rim is in. Though the Guillermo del Toro-directed monsters versus robots epic tanked in the U.S., it did well enough worldwide that a sequel has been in the works. However, Pacific Rim 2 has been pushed back and delayed numerous times, and it has now been completely pulled from Legendary's release schedule. A statement says it will be rescheduled at some point, but that remains to be seen.
Pacific Rim had an even bigger budget and made less money than Genisys. And even though the international market has become a key piece of how movies are produced, released, and sold, it doesn't appear that it was big enough to save either of these pictures.
Your Daily Blend of Entertainment News
Thank you for signing up to CinemaBlend. You will receive a verification email shortly.
There was a problem. Please refresh the page and try again.