They Live Will Kick Ass And Chew Bubblegum On Blu-Ray This November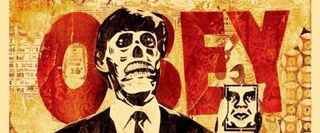 There are two types of people in the world: people who love John Carpenter's They Live, and godless heathen sissypants commie bastards. That right there is a fact. Those of you who are in the former category will be thrilled to hear that Scream Factory, a spinoff of Shout! Factory focusing on cult-classic movies, has announced a new Blu-ray and DVD special edition of They Live, set to arrive on November 6th. Those of you in the latter category, slink away and think long and hard about how your life went so very, very wrong.
For those of unforgivably unfamiliar with They Live, the movie starred wrestler "Rowdy" Roddy Piper as Nada, an unemployed drifter who stumbles onto the fact that our world has been overrun by nefarious aliens. They've infiltrated the ruling class and are keeping mankind cowed and stupid via a subliminal signal hidden in TV broadcasts. But he can see their true nature, thanks to a pair of special sunglasses. No, seriously. Nada being a take-charge kind of guy, he vows to kick ass, chew bubblegum, and fight Keith David for five minutes straight.
Scream Factory's new They Live collector's edition will be available on both Blu-ray and DVD, and both versions will include bonus content and snazzy new cover art. The specifics of the bonus features haven't been revealed yet, but Scream Factory says that it will include "all-new interviews, an audio commentary and archival material." I will be very disappointed if it doesn't include a complimentary piece of bubble gum.
The new They Live collector's edition is already available for pre-order from ShoutFactory.com, and if you're a die-hard fan you might want to act quickly. The first 500 people to order will receive an 18" x 24" poster of the new cover image, which you can see below.
Your Daily Blend of Entertainment News
Your Daily Blend of Entertainment News
Thank you for signing up to CinemaBlend. You will receive a verification email shortly.
There was a problem. Please refresh the page and try again.