They're Making Another Garfield Movie, But With One Important Change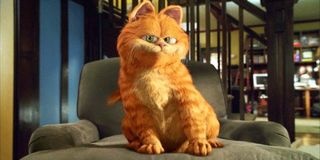 Even though Bill Murray's casting as Garfield should have been a match made in cinematic heaven, his two outings as the feline with a lasagna fetish didn't produce the films that fans of the character and actor were hoping for. But they still made a combined total of $342.5 million at the box office, which means that news of a brand-new Garfield film shouldn't shock anyone. Rather than being a sequel though, this is a fresh iteration of Garfield and it will be entirely animated.
Variety were the first to report that Alcon Entertainment signed a deal for the rights to make animated films based on the world famous Garfield comic strip, created by Jim Davis - who was also named as an executive producer on this latest incarnation of his beloved character. Broderick Johnson and Andrew Kosove, the co-founders and co-chief executive officers of the studio, making their announcement on Monday. For those of you that don't know, Garfield revolves around a lazy and overweight orange cat who has a slight addiction to lasagna and despises Mondays. He interacts with his owner, Jon Arbuckle, and his fellow pet Odie, an obedient dog that Garfield repeatedly uses to blame for his antics.
2004's Garfield: The Movie and 2006's Garfield: A Tail Of Two Kitties were mostly live-action, with a CGI Garfield then being added in post so that his outrageous antics could be captured in full anthropomorphic glory. But after acquiring the rights to the franchise from 20th Century Fox Alcon Entertainment have decided to go in a completely different direction, which they hope will blossom into a brand new franchise of Garfield films.
The Garfield comic strip was first published in 1978 and is syndicated in around 2,580 publications, making it the world's most widely read comic strip. So as you'd expect, Andrew Kosove and Broderick Johnson immediately started to talk the big talk regarding Garfield, calling Jim Davis' cartoon an "international sensation for all ages for decades." Which means that if they have their way, you can bet they'll try to make an expanded universe out of this property. But why have they decided to make an animated film instead of another live-action version?
Well, Jim Davis admitted that he's been hugely "impressed with the quality of animation and storytelling coming out of Hollywood of late." But, as Angry Birds' dominance at the box office this weekend reinforced, it also helps that the genre is currently thriving financially, too. Alcon Entertainment have also wasted no time in acquiring a sublime producing team for Garfield, with John Cohen, who produced Despicable Me and The Angry Birds Movie, overseeing the film alongside Stephen P Wegner, after they originally brought the idea to the studio.
Now they just have the small matter of trying to find the perfect actor to replace Bill Murray as the voice of Garfield, which will be no small feat.
Your Daily Blend of Entertainment News
Your Daily Blend of Entertainment News
Thank you for signing up to CinemaBlend. You will receive a verification email shortly.
There was a problem. Please refresh the page and try again.