Til Schweiger To Make English-Language Remake Of His German Thriller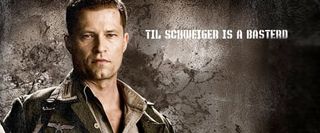 The multi-faceted German actor Til Schweiger has proven a cinema sensation in his native land crafting films as a performer, writer, director, producer, and editor. While Stateside he's generally best known for supporting roles, this may soon change as Schweiger's film ambitions go toward international domination. The charismatic man of many talents is currently shooting Schutzengel, a German action-thriller that's title loosely translates to The Guardians. Now he's already cementing plans for an American remake of the film, which centers on a mentally unstable ex-soldier, whose special skills are put to the test when he must rescue an orphaned teen whose life is at risk after having witnessed a murder.
In the German-language version, Schweiger is not only directing and producing from a script he co-wrote, but is also starring opposite his daughter, Luna Schweiger. Variety reports Luna will reprise her role in the American remake, yet at this stage Til only seems to be attached to "develop and produce." Warner Bros. has already committed to release Schutzengel in Germany, where Schweiger is a major box office force, and may also sign on to distribute it's English-language counterpart, but that may depend on who signs on to star.
Now, nothing seems to be set in stone on this remake, which we'll just call The Guardians for the sake of discussion, but I think it'd be a damn shame for Schweiger to have to hand off the action feature he so carefully crafted for himself to some "bigger" American name. Schutzengel is being made for a paltry sum of $9.85 million, so it seems a similarly small production could be mounted Stateside, alleviating a studio's risk at casting a non-A-lister. However, that's not really the way of American remakes is it? Producers of such films are looking to build exponentially on whatever niche crowd may be aware of the original in the U.S., by casting a massively famous face, tacking on lots of pyrotechnics and action set pieces, and pumping up the price tag and expectations.
The latest filmmaker to buck this pumped-up actioner trend was Steven Soderbergh, who put a professional fighter at the front of his lean and mean espionage-centered action flick Haywire. Sadly, while critics—myself included—cheered the film's inventive and gritty take on action, audiences jeered and it quickly ran out of box office momentum. Still, anyone who's ever seen Schweiger in Inglorious Basterds or a similarly significant supporting role knows he's got an incredible screen presence, an almost dangerous smile, and a skill for onscreen action. Personally, I recommend seeking out the little-known neo-noir Judas Kiss, where he plays the eccentric hired gun Ruben Rubenbauer, to get a taste of his incredible charisma. Beyond that, look at the guy! He is built for action stardom! He just needs a chance. Besides, Jeremy Renner can't play every action hero, can he?
Your Daily Blend of Entertainment News
Staff writer at CinemaBlend.
Your Daily Blend of Entertainment News
Thank you for signing up to CinemaBlend. You will receive a verification email shortly.
There was a problem. Please refresh the page and try again.