Tim Burton's Animated Addams Family Confirmed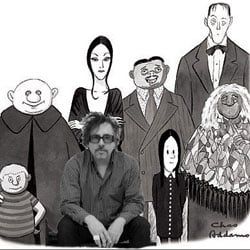 Is Tim Burton making an animated version of The Addams Family or not? Back in March word got out that Burton had plans to go back to the Charles Addams' New Yorker illustrations, the inspiration for the 1960's TV show and the two Barry Sonnenfeld films, to create his own film about the family in 3D using stop-motion animation. The next day MTV got in touch with Burton's reps who said, "There is no truth to the story. Tim has not lined up any of his upcoming projects." While that may have debunked the news for the time being, that second cryptic sentence certainly hinted at future potential and, sure enough, today Coming Soon is confirming that the project is a go.
While chatting about his upcoming film Despicable Me, producer Christopher Meledandri said The Addams Family is happening and that Burton is indeed attached. He also confirmed that Burton isn't going the computer animation route and instead is sticking with stop motion animation as used on movies like The Nightmare Before Christmas and Corpse Bride. There's also a chance that the animated film will be released in black and white, however, no final decisions have been made on that matter. And, even with all of these details, Meledandri did emphasize that the film is only in the very early stages.
I felt Burton took things a step too far with Alice in Wonderland but there's something about this project that hints it can be the right one for Burton. There's no denying that stop-motion animation is mesmerizing and far more vivid than standard computer animation. Plus, opting to stick with Addams' cartoons as source material will give Burton an adequate excuse to stay dark and, more importantly, would make his film something more original rather than just a remake or reboot of Sonnenfeld's films. The whole black and white is pretty intriguing as well. It could distract from the animation technique, but it's also something we've never seen in modern animated films.
Your Daily Blend of Entertainment News
Staff Writer for CinemaBlend.