Tim Robbins Getting Back Into Directing With Spy Story City Of Lies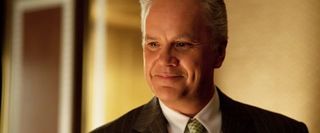 Tim Robbins will probably always be more famous as an actor than as a director, but he's had a pretty good run behind the camera as well, directing the 90s classic Dead Man Walking along with the TV movie Possible Side Effects and even two episodes of the HBO series Treme. Maybe it's that HBO work that's inspiring him to get his first film into theaters since 1999's Cradle Will Rock-- Robbins has signed a deal to direct an adaptation of the short story Wenceslas Square, which will become a feature film called City of Lies.
You may recognize the story from the NPR show This American Life, of all places, where it was read on an episode in 2007. This American Life producers Alissa Shipp and Ira Glass will be involved with the film adaptation, according to THR, and the screenwriting duties will go to Christopher Markus and Stephen McFeely, who most recently wrote Captain America: The First Avenger. Yes, this is an incredibly odd assortment of people. It gets even odder when you realize that Philip Noyce, director of Salt, was originally attached to direct.
The story of City of Lies will follow two spies assigned to missions in Prague, who manage to fall in love in the process. "Wenceslas Square" was written by Arthur Phillips, who according to his WIkipedia entry is a five-time Jeopardy! champion. Yes, this whole story really never runs out of odd details, but if it's all enough to get Tim Robbins back behind the camera, we won't question it.
Staff Writer at CinemaBlend
Your Daily Blend of Entertainment News
Thank you for signing up to CinemaBlend. You will receive a verification email shortly.
There was a problem. Please refresh the page and try again.