Tim Roth Joins Nicole Kidman In Grace Kelly Biopic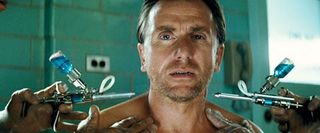 When it comes to true-life tales of fantastical love, the one between Grace Kelly and Rainier III Prince of Monaco is certainly one of the most enticing. She was a glamorous Hollywood starlet and one of Alfred Hitchcock's recurring leading ladies, starring in Rear Window, Dial M for Murder, and To Catch a Thief. He was—well—he was a prince! An honest to god prince! But their courtship is not the focus of director Olivier Dahan's upcoming biopic Grace of Monaco. Instead, he focuses on a tumultuous time in this iconic pair's marriage.
Penned by Arash Amel, the script was named one of the best unproduced screenplays of 2011, earning a place on the illustrious Black List. It begins six years into Kelly's marriage to the prince. She's settled into her new life far from the glitz of Hollywood, and has two children with her beloved husband. But trouble brews between the two when tensions between Monaco and France arise over Rainier's tax laws. Nicole Kidman will headline as Kelly, and Variety reports Tim Roth (Reservoir Dogs) has committed to play Rainier, who is described as ambitious and headstrong, in part because he was forced to take up his royal responsibilities at an early age.
In other news, Frank Langella (Frost/Nixon) has entered into talks to play Father Tucker, the priest who initially introduced the pair and offers advice during their darkest days. Should he sign on, he'll join a supporting cast that includes Paz Vega (Spanglish), who'll play celebrated opera singer Maria Callas, friend to Kelly, and Roger Ashton-Griffiths (You Will Meet a Tall Dark Stranger), who'll portray Hitchcock. In short, Dahan is stacking up a solid cast, but what else would you expect from the filmmaker behind the internationally acclaimed La vie en rose?
Grace of Monaco is slated to shoot in France this fall.
Your Daily Blend of Entertainment News
Staff writer at CinemaBlend.