Timecop Reboot Picks Up Screenwriters Of Journey 2: The Mysterious Island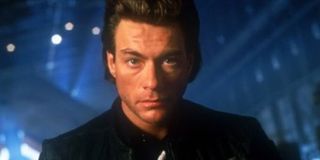 Total Recall. RoboCop. Blood Sport. Godzilla. The Fantastic Four. The Pink Panther. Gremlins. For better or worse, Hollywood loves a reboot. The latest reboot to make the leap into development is Universal's Timecop.
THR reports Universal has hired cousins Mark Gunn and Brian Gunn, co-writers of the Dwayne Johnson action-comedy Journey 2: The Mysterious Island, to write the screenplay for a rebooted Timecop.
The original 1994 movie starred Jean-Claude Van Damme and was inspired by the comic book series by Mike Richardson and Mark Verheiden. The action flick was set in 2004, where--as the trailer below outlines--"time travel is a reality." Meanwhile, in actual reality it's 2014 and we still don't even have hoverboards, but I digress. Anyway, in Timecop time travel wasn't only possible, but also a criminal offense. It's just too tempting to go back and time and steal sweet loot (Time Bandits) or bet on sporting events you already know the outcome of (Back To The Future Part II). So society demands a time cop to chase down these nonlinear villains.
Revisit the trailer for the first film below:
In 1994's Timecop, Van Damme's titular police officer was up against a crooked politician (played by Ron Silver) that was manipulating time travel to advance his political ambitions. The science fiction elements of the film were willfully showy, making the most out of the visual effects available at the time. But according to THR, the Gunns have been brought on board to craft a grittier and more grounded detective story where the sci-fi elements will just serve as a backdrop. Think Looper with less brains and a much bigger budget.
The possibility of a Timecop reboot was first brought to light in 2007. Still, it took three more years before Universal mentioned the project again. And another three passed before it was revealed Van Damme would not be returning. It is astonishing that in all that time a screenplay wasn't in the works. Perhaps producers Marc Shmuger and Mike Richardson were working out a concept that would be worth making?
Aside from the promise of something darker and less fantastical, we don't know how closely the Gunns will keep to the original story. But since we already have that one, I'm hoping they take the basic concept of a timecop and just run with it in a new direction. There's plenty of time travel crimefighter stories that have been told, from those listed above to Doctor Who, Quantum Leap, Terminator and 12 Monkeys. Let's hope Universal and the Gunn cousins take the opportunity to do something fresh with this familiar character.
Your Daily Blend of Entertainment News
Staff writer at CinemaBlend.