Tom Hardy Joins Kathryn Bigelow For Terrorist Drama True American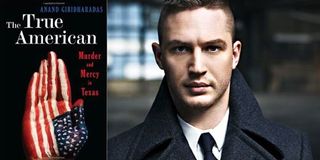 In 2008 and 2012, director Kathryn Bigelow offered harrowing dramas that topped countless critics' Top 10 lists. They both went on to win Academy Awards. Now, the helmer of The Hurt Locker and Zero Dark Thirty is preparing her follow-up, and she's plucked one of our favorite leading men to headline.
Variety reports that Tom Hardy has been attached to Kathryn Bigelow's Zero Dark Thirty follow-up True American, which like its predecessor will also unfurl a terrorism-centered drama based on a real event. But this one plays out much closer to home.
Based on New York Times' columnist Anand Giridharadas's non-fiction book, The True American: Murder & Mercy in Texas, Bigelow's True American will tell the story of two men: Raisuddin Bhuiyan and Mark Stroman, and how their paths crossed to throw Americans' concepts of terrorism into spin.
Here's an excerpt from the book's official synopsis:
Though the Variety piece doesn't specify, we assume--based on the above plot description--that Hardy is set to play "American terrorist" Mark Stroman. Below, you can see a side-by-side of Stroman and Hardy circa Bronson.
From here, it'll be interesting to see who'll be cast to play Raisuddin Bhuiyan, who (spoiler alert) found his path to forgiving Stroman through fighting to save him from the death penalty. Here's an image of this incredible man.
This sounds like it will be another challenging and unforgettable film from Kathryn Bigelow, and the attachment of Tom Hardy is just gravy. I mean, the guy can even make talking to a car phone for two hours riveting. Adding to True American's promise and prestige is Megan Ellison, the powerhouse producer who had two films (Her, American Hustle) contending for Best Picture last year. Basically, assume this one will be on the Oscar contender list whatever year it debuts.
Staff writer at CinemaBlend.
Your Daily Blend of Entertainment News
Thank you for signing up to CinemaBlend. You will receive a verification email shortly.
There was a problem. Please refresh the page and try again.