Tom Hardy's Splinter Cell Hires An Oscar-Nominated Writer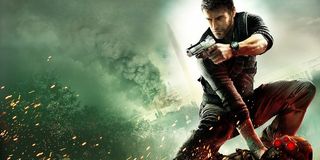 When Ubisoft announced the launch of its Motion Pictures branch, it gave gaming and non-gaming audiences hope that maybe, just maybe video game adaptations wouldn't automatically result in subpar films. It's not unusual for this type of movie to draw a lot of heavy breaths and eye rolls, considering the long, infamous history of horrible video game films Hollywood has tried to roll out. Thankfully, recent developments have seemed to indicate that they're trying to do right by their own properties - namely Splinter Cell. Not only has the project landed a new writer, he's an Oscar nominee with Blockbuster franchise experience!
A recent story published by Deadline reveals that Sheldon Turner, of Up In The Air and X-Men First Class fame, has been hired as the new writer for the long in-development Splinter Cell film. The adaptation of the late Tom Clancy's wildly successful game franchise was previously working with a draft crafted by American Hustle scribe Eric Warren Singer, with the project set to be directed by Doug Liman (the man behind this summer's Tom Cruise event pic Edge of Tomorrow).
Filming is set to start in August, with international superstar Tom Hardy (who's had some good recent buzz with his latest film Locke showing out of competition at Cannes) set to step behind the night vision goggles of the legendary Third Echelon spy Sam Fisher. Nothing is known about the film's story, but in the original video game series the player would experience stealthy missions of International intrigue and mass property destruction. Think an episode of 24, but with the arsenal of James Bond, which sounds right up Hardy's alley considering his role in McG's spy action comedy This Means War.
It's been an eventful year for a film that was promised to us about nine years ago. If you don't believe it, there's proof. Here's the official teaser trailer that came packaged with the video game release of Splinter Cell: Chaos Theory. At this much earlier point in the film's development, Paramount was attached as the studio and John Woo's name was being thrown around for the director's chair. As you'll see below, all they really had was a name, a studio, and a basic concept of the series.
Seeing as Ubisoft Motion Pictures has a home court advantage when it comes to understanding what makes Fisher work as a hero, this could be an easy hit if done right. Which is good, because Doug Liman could use a hit just in case Edge of Tomorrow happens to do as well as his last attempt at a blockbuster: the infamous Jumper. Another thing to keep in mind when evaluating this project is that Ubisoft isn't just putting all of its eggs in this one basket.
Michael Fassbender's turn as producer and star of Assassin's Creed is also scheduled for an August 2014 production start date, as well as an August 7th, 2015 release date. With that in mind, it might be better if Splinter Cell ends up coming out 2016, so as to better evaluate the success of the other film's efforts and to avoid an already crowded year at the Box Office.
Does anyone still want to see a Splinter Cell movie? Is Doug Liman really a good fit for this project? We'll find out when (and if) Splinter Cell hits theaters.
CinemaBlend's James Bond (expert). Also versed in Large Scale Aggressors, time travel, and Guillermo del Toro. He fights for The User.
Your Daily Blend of Entertainment News
Thank you for signing up to CinemaBlend. You will receive a verification email shortly.
There was a problem. Please refresh the page and try again.