What The Knocked Up Cast Is Doing Now, Including Katherine Heigl And Seth Rogen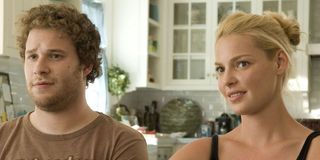 Take one look at the poster for 2007's hit comedy, Knocked Up, which features a young Seth Rogen, and you will see the face of a man who has just begun to put in so much of the work which has made him the comedy legend he is today. Seth Rogen has been working nonstop ever since the release of Knocked Up, which also featured an all-star cast including Katherine Heigl, Paul Rudd, and Jonah Hill, as well as many other notable names.
It's actually kind of crazy to believe the power of Judd Apatow's second directorial effort, as it kind of changed the entire landscape of American comedies for a while. Predating 2009's, The Hangover, Knocked Up nailed the immature dudes who are slowly, painfully learning to mature, and the women who, unfortunately, have to deal with them. Katherine Heigl famously (infamously?) once made comments about how she viewed the film as possibly being sexist toward women, and in 2021, it feels like there's a bit more credence to her claims. But, if anything, Knocked Up is a great time capsule of the late aughts. So, here is what those fresh and young faces are currently doing.
Seth Rogen (Ben Stone)
As mentioned in the intro, I mean, jeez, what hasn't Seth Rogen had a hand in over the years? Actor, producer, writer, director...Seth Rogen pretty much does it all in the industry. On the directorial side, he's co-directed This Is the End, which starred quite a few people who were also in Knocked Up. He also co-directed the super controversial The Interview, which put us in an iffy place with North Korea back in 2014, and most recently, a short film in 2017 called Bananas Town, all with his frequent partner, Evan Goldberg. He also produced most of those films, and helped write all of them.
On the acting side, he's been in seemingly everything since Knocked Up. Some of the most notable films include, Pineapple Express, Zak and Miri Make a Porno, Funny People, voicing Mantis in the Kung-Fu Panda series, voicing a hot dog in Sausage Party, the first assistant director, Sandy Schklair in The Disaster Artist (which is likely the last time we'll ever see him work with James Franco), voicing Pumbaa in the live-action Lion King, and, most recently, as a Jewish immigrant in the comedy drama, An American Pickle. Next up, he'll play the "favorite uncle" in a semi-autobiographical Steven Spielberg film. He'll also have a hand at rebooting my beloved Ninja Turtles. So, yes, he's been a very busy man.
Katherine Heigl (Alison Scott)
As mentioned earlier, the former Grey's Anatomy star has had a lot of ups and downs since her comments about Knocked Up being "sexist." Film-wise, she's been keeping relatively busy. She starred in 27 Dresses, The Ugly Truth, and One For the Money, to some success, but she's mostly shifted her focus to TV since then. She received a Razzie nomination for her role in Home Sweet Hell as Mona Champagne back in 2015, and her most recent role was as Michelle Burroughs in a psychological thriller titled Fear of Rain.
TV has been a bit better for the actress, as she's had leading roles in State of Affairs, Doubt, Suits, and most recently, the Netflix show Firefly Lane, where she plays a daytime talk show host named Tully Hart. It's since been renewed for a second season, which will air in 2022. She is also slated to play women's suffrage leader, Victoria Woodhull, in a miniseries aptly titled, Woodhull.
Paul Rudd (Pete)
Paul Rudd, who would later star in a Knocked Up spin-off, This Is 40, alongside Leslie Mann, has also been keeping super busy since Knocked Up. On the television side, the former Mike Hannigan of Friends fame was on Veronica Mars, voiced three different roles on The Simpsons, had a recurring role on Parks and Recreation as Bobby Newport, and will also be a voice on the upcoming What If…? Disney+ series.
Film-wise, he's been in lots of stuff, too, most notably Role Models, I Love You, Man alongside Knocked Up star, Jason Segel, Anchorman 2: The Legend Continues, and probably, most famously, as Scott Lang, a.k.a., Ant-Man in the MCU. Next up, the actor will be Mr. Grooberson in Ghostbusters: Afterlife and then as Ant-Man again in 2023's Ant-Man and the Wasp: Quantumania. So, phew. Still very hard at work.
Jonah Hill (Jonah)
Jonah Hill has had a really interesting career since Knocked Up, most notably being nominated twice for Academy Awards for his supporting roles in Moneyball and The Wolf of Wall Street. Most interestingly, though, might be the fact that you really can't pin this man down in any specific role anymore. He's also directed the highly underappreciated movie, Mid90s, which, as a '90s kid, really spoke to me as a viewer.
TV wise, Jonah Hill did the animated Fox Show, Allen Gregory, as well as roles on The Simpsons, Reno 911! And Curb Your Enthusiasm. Film-wise, he's been ubiquitous, as he's been in films like Superbad, Cyrus, the voice of Snotlout Jorgenson in the How to Train Your Dragon series alongside Knocked Up star, Jay Baruchel, both 21 Jump Street movies, as well as War Dogs and many others. His next project will be the dark comedy Don't Look Up, which will be coming to Netflix. Whatever Jonah Hill does, I'm there. He's a great actor!
Leslie Mann (Debbie)
Judd Apatow's real-life wife (as nearly everybody knows, and those are their two children in Knocked Up), Leslie Mann, like everybody else, has been keeping busy. On the TV side, she did seven episodes on Jonah Hill's animated series, Allen Gregory. She also did a voice role on The Simpsons, and was a narrator on Makers: Women Who Make America. Those last two were back in 2014.
On the film side, she's done much more recent work. She was in Drillbit Taylor, the animated franchise, Rio 1 and its sequel, Vacation as Rusty's sister, Audrey Griswold-Crandall, and, most recently, as the voice of Hope Betterman in The Croods: A New Age. Her next project will have her working with her husband again for his next movie, The Bubble. Looking forward to it.
Jay Baruchel (Jay)
Jay Baruchel, who made his TV debut on Are You Afraid of the Dark? and also had a role on the immensely underappreciated sitcom, Undeclared (I'm sorry, I know these came before Knocked Up, but I feel like I'll never get to talk about those shows if I don't mention them now!) hasn't been seen as frequently as some of the other films' stars, but he's had a fascinating career as well.
He's probably most known as the voice of Huccup in the How to Train Your Dragon series. But, he's also been in Tropic Thunder, She's Out of My League, Goon (he directed the sequel, Goon: Last of the Enforcers), This is the End, The Sorcerer's Apprentice, and the 2019 slasher, Random Actors of Violence, which he also produced and directed. He also wrote the book, Born Into It: A Fan's Life, where he writes about his fandom of the Montreal Canadiens. His last project was the starring role on the TV show, The Moodys, which was just recently cancelled. We'll be keeping a look out for whatever he has next in store for us.
Jason Segel (Jason)
Jason Segel, like quite a few stars in Knocked Up, got his start on the cult comedy, Freaks and Geeks, and he's been going pretty strong ever since. He's probably most known for his role in the How I Met Your Mother cast as Marshall Eriksen, but I'm sure you've seen him around in several other things as well, most notably (here it comes again) Undeclared, but more recently, the AMC show, Dispatches from Elsewhere.
Film-wise, he was in Forgetting Sarah Marshall, I Love You, Man, The Muppets, Sex Tape (I never thought I would type the words "The Muppets" and "Sex Tape" so close together, but there you have it), and 2019's Our Friend. His next theatrical project is the movie, The Sky Is Everywhere, which is based off of a novel of the same name. So, yeah. Muppets Sex Tape. That's now a thing in my head.
Charlyne Yi (Jodi)
Charlyne Yi is always popping up in pretty much everything I watch. Following Knocked Up, she was in Cloverfield, Semi-Pro, the EXCELLENT Paper Heart, in a voice role for the Netflix animated movie, Next Gen (which my son loves, by the way), Trolls: World Tour, which my kids both loved and hated, and was most recently a voice in The Mitchells vs. the Machines, which we haven't watched yet, but will.
She's also done a lot of TV work, like Steven Universe, Twin Peaks, when it was brought back, Lucifer, Good Girls, and the HBO Max original series, Tig n' Seek in a voice role. We'll be keeping track on how anything else the actress has in store for us next develops.
In the end, Knocked Up was the little comedy that could. The film, perhaps unsurprisingly, has left a lasting legacy, and it still ranks up there as one of the best comedies of the earlier 2000s. But, if you're looking for more recent films, like say, this year, then make sure to check out our list of 2021 movies. Who knows? Maybe you'll find the next Knocked Up on that list.
Your Daily Blend of Entertainment News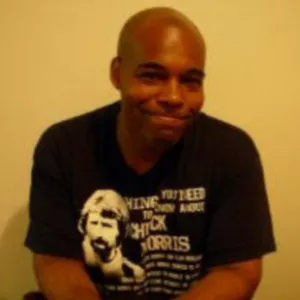 Rich is a Jersey boy, through and through. He graduated from Rutgers University (Go, R.U.!), and thinks the Garden State is the best state in the country. That said, he'll take Chicago Deep Dish pizza over a New York slice any day of the week. Don't hate. When he's not watching his two kids, he's usually working on a novel, watching vintage movies, or reading some obscure book.