Transformers Has Biggest Tuesday Box Office Ever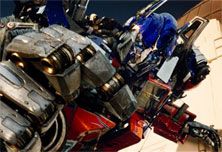 Any questions about how absolutely huge Transformers is going to be were answered this Tuesday, when the film opened for it's official release In just that single day, Transformers earned more than three times what Live Free or Die Hard did when it opened last Wednesday.
Michael Bay's giant freakin robots movie debuted with a massive $27.4 million on Tuesday, making it the biggest ever take ever brought in by any movie on a Tuesday. You might think the competition isn't very fierce there, since Tuesday's aren't exactly prime movie going time, but the previous champ was Pirates of the Caribbean: Dead Man's Chest with a very distant $15 million.
Add in the $8.8 million the movie made the day before in advance, 8PM showings and Transformers has already grossed more than $36 million just domestically. By contrast, last weekend's number one Ratatouille made $47 million over the entire weekend, and Live Free or Die Hard only made $33 million. Those robots have quite a punch.
The only question left now is how much money will Transformers make when the big weekend hits. Will its potential audience already have been depleted, since most of the film's hardcore fans will have seen it during the week or during the 4th of July holiday? That it will be number one this weekend is almost assured, it's just a question of by how much.
Your Daily Blend of Entertainment News
Thank you for signing up to CinemaBlend. You will receive a verification email shortly.
There was a problem. Please refresh the page and try again.