Trey Parker And Matt Stone Say Hold Your Horses On The Book Of Mormon Movie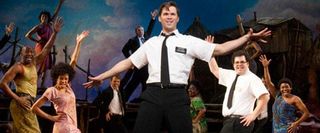 When South Park: Bigger, Longer, & Uncut, the film adaptation of the raunchy Comedy Central animated series, hit theaters in 1999, it was one of the biggest surprises of the year. Whether you could stomach the film's crass content or not, the one thing that could not be denied was that South Park: Bigger, Longer, & Uncut was a legitimately well-crafted musical. The songs were catchy, the arrangements ambitious and expertly executed, and the music perfectly underscored the tone of each scene. Many people, myself included, hailed it as one of the best musicals of that decade.
So it really shouldn't have been a shock to anyone that South Park creators Trey Parker and Matt Stone have since masterminded a blockbuster Broadway musical called The Book of Mormon that isn't just a giant stage hit, but is already rumored for a movie adaptation. But today The Hollywood Reporter has announced we may not actually get to see that movie anytime soon. They sat down with Matt and Trey and asked them about the pending big screen adaptation. Trey indicated that, while they would like to do one eventually, they want to continue to let it thrive on stage and have no imminent plans to do a feature film.
Matt and Trey are two guys who have enjoyed enough creative success, and learned enough valuable lessons in the process, to be able to work at their own pace. At this point no one is going to be able to rush them into production on something they are not completely comfortable with. Though with the staggering number of Tony awards The Book of Mormon took home this year, I have no doubt that it will eventually find its way to the big screen. Then Matt and Trey can get back to what really matters…bringing Cannibal! The Musical to Broadway.
Your Daily Blend of Entertainment News
Thank you for signing up to CinemaBlend. You will receive a verification email shortly.
There was a problem. Please refresh the page and try again.