Tribeca Film Festival: Wadjda Is A Spirited Coming-Of-Age Story Out Of Saudi Arabia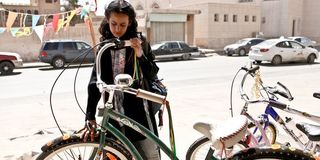 Remember forming rivalries as a kid over any mundane games that could be turned into a contest? This brand of competition that is at the core of Wadjda's plot. A 10-year-old girl dreams of racing the boy next door, whose been teasing her from the seat of his new bicycle. A plucky and smart child, she plans to save up to by a bike of her own; then she'll show him!
While this would be obstacle enough for most coming-of-age movies, this titular young heroine's stakes are raised by her setting. See, Wadjda lives in modern-day Riyadh, Saudi Arabia, where women are culturally pressured to hide their faces under black scarves in public, prohibited from driving, barred from associating with males outside their own families, and even scorned for laughing in earshot of strangers (who are male). This is not a place where girls are allowed to ride bikes.
Though her mother, teachers, and peers attempt to dissuade her from her goal, this uncompromising little rebel is undeterred, selling homemade bracelets (schoolyard contraband) and finding any means short of stealing to earn her dream bicycle. This means the emotional life of the film is almost solely on the shoulders of its child star, newcomer Waad Mohammed, who is utterly remarkable in this role. Her effortless portrayal of the Converse-sporting, spunky Wadjda makes this narrative radiant with energy and warmth. And while the film reveals many uncomfortable (and in some cases sickening) examples of gender inequality in the nation, Wadjda is ultimately a tale of hope and progress.
While the details are specific to Saudi Arabia (including the offscreen threat of "religion police"), Wadjda's struggle to be accepted for who she is on her own terms is completely universal and downright inspiring. The behind-the-scenes story on the film only deepens its appeal. It was Saudi Arabia's first feature shot entirely within the nation, as well as its first directed by a female. And if you think a female riding a bike is taboo, just imagine how a woman making a movie would go over. The filmmaking process was so potentially perilous to Haifaa Al-Mansour that she often had to direct scenes via remote from the back of a van so as to not mix publicly with male crew members.
These conditions make Wadjda's creation all the more astounding, and its unbridled sense of joy all the more impactful. But even without this context, this coming-of-age tale is among the best I've ever seen. The performances from the children involved are realistic and vibrant, giving captivating portraits of girls and boys of Saudi Arabia at work (school) and play. On the other hand the performances from its adult cast give the drama a depth that subtly suggests consequences never uttered aloud.
The story of Wadjda and her mother coming to terms with each other is delicately carved but with a heartfelt sense of humor that transcends cultural differences. It's this humor that recognizes tragedy and injustice but laughs anyway that propels this film into a rarified stratosphere. It's not broad or satirical comedy, but observational and honest humor, never making its kid characters less-than by making them cutesy. Their concerns and conflict are grounded and earnest, and so Al-Mansour masterfully makes her audiences recall what it is like to be a fearless kid, while her subplots of the adults in Wadjda's life give context to how costly youthful mistakes can be.
Sony Pictures Classic will be distributing Wadjda at some point, and my money is on this extraordinary gem having a strong chance at scoring lots of notice and accolades come award season.
For our complete Tribeca Film Festival coverage, click here.
Staff writer at CinemaBlend.
Your Daily Blend of Entertainment News
Thank you for signing up to CinemaBlend. You will receive a verification email shortly.
There was a problem. Please refresh the page and try again.